Talisman Digital Edition launches proper after stint in Steam Early Access
Nomad acted upon over 12,000 comments and bug reports.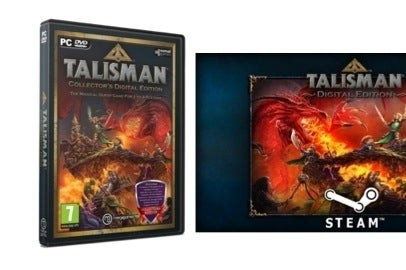 Talisman Digital Edition has launched proper after a successful stint as a Steam Early Access game.
The video game version of Games Worksphop's cult classic fantasy adventure board game includes multiplayer modes for up to four players online or local. Or you can play against AI opponents.
There's also a boxed collector's set sold by Merge Games Limited. This includes two copies of the game plus the solo quest version Talisman Prologue.
Also out is the first digital expansion pack, The Reaper.
Carl Jackson, of developer Nomad Games, told Eurogamer it received over 12,000 comments and bug reports from users of the Early Access version.
"The players really helped shape the game that we're now launching and it has turned out to be an even better game because of them," he said.
Areas of focus include usability and understanding of the board game's rules.
"It's easy to forget that not all players are experts at playing the physical board game, so we needed to make sure that all levels of players could understand what was happening, by glowing various areas of the UI to catch players' eyes, and make sure that all options available to the player were clearly defined," Jackson added.
Nomad added text chat after it found voice chat didn't serve all players' needs. "This encourages all players to join in and the feeling of being across a table from someone is not lost in this digital version," Jackson said.