Sega: Sonic and Sega All-Stars Racing Transformed Wii U graphics on-par with PlayStation 3 version, "maybe even better"
Wii U exclusive characters detailed.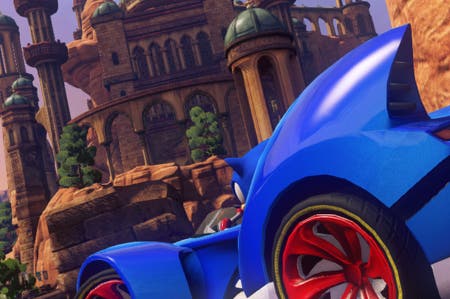 UPDATE: We've updated the headline of this article to better reflect the content of the story. Sega was referring to the visuals of Sonic and Sega All-Stars Racing Transformed on Wii U compared to the visuals of the other versions, not the graphics capabilities of the Wii U itself. Sorry for the confusion this has caused.
ORIGINAL STORY: British developer Sumo Digital's new Sonic racer is graphically "on-par" with current generation consoles - "or maybe even better", according to publisher Sega.
Sega marketing exec Ben Finch made the comment to Eurogamer as we tested out the Wii U version of Sonic and Sega All-Stars Racing Transformed at Gamescom.
The 3DS and Wii U versions will exclusively support Mii characters, Sumo also confirmed.
The racer allows you to pilot both aircraft and boat forms of your vehicle - necessary for each course's airborne and aquatic sections. It's similar to Nintendo's own racer Mario Kart 7 in this regard, although Sega said that the Sonic project was started before Nintendo's was announced.
The Wii U version allows players to use the GamePad screen for Remote Play, or alternatively as a second display offering a rear view.
You can even use the GamePad screen as a weapon-cam, allowing you to guide homing rockets around the course. But this feature can also demonstrate the perils of glancing from screen-to-screen: Eurogamer saw one racer look down to fire his rocket, stop racing, and manage to shoot himself instead.