Sonic & All-Stars Racing Transformed morphs onto mobile
Adds Shenmue's Ryo Hazuki.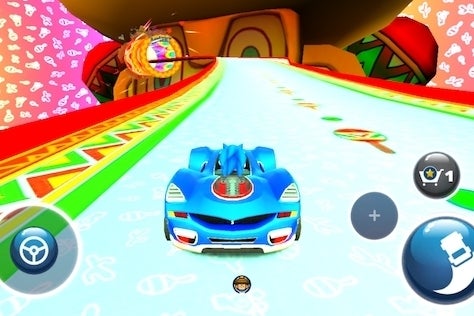 Sonic & All-Stars Racing Transformed has launched on iOS and Android for a mere £2.99 / $4.99, a fraction of the price of its console brethren.
This mobile port includes all of the console game's content with new additions such as a brand new World Tour and Shenmue lead Ryo Hazuki piloting a mobile arcade cabinet that transforms into a spaceship and hovercraft.
This is actually Hazuki's second appearance in the kart-racing series as he was featured as DLC in the previous Sega racer, Sonic & Sega All-Stars Racing, in which he drove his trademark forklift.
Astute viewers will notice Hazuki's license plate teases "Shen 3," but unfortunately this is only a joke rather than an actual hint of a real announcement. "Don't get too excited over the number plate," noted developer Sumo Digital on the Sega forums. "It is of course a tongue in cheek reference to just how long it's taking for Sega to get that third part out."
Eurogamer features editor Martin Robinson was a big fan of Sonic & All-Stars Racing Transformed upon its console launch at the end of 2012. "This manages to be more than just a tribute to the great and good of Sega's past - it does enough to earn its own place alongside them," he wrote in his review of the PS3 version of the game.