Subnautica: Below Zero's first big early access update adds the amazing, modular Seatruck
Plus new biomes, deadly fauna, and more.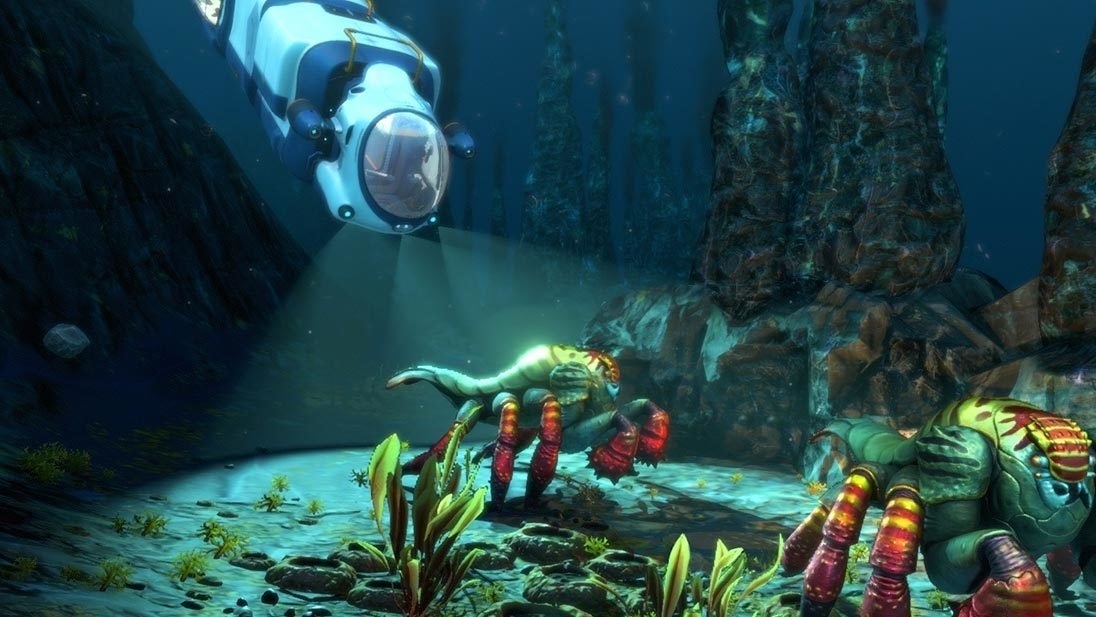 Subnautica: Below Zero, developer Unknown World's standalone expansion to its brilliant underwater survival adventure, just got its first big Early Access development update - and, with it, the mighty Seatruck!
Below Zero, if it's somehow managed to pass you by, takes place one year after the events of the main game, and challenges players to survive a disaster at an alien research station. All this unfolds on a previously unseen part of ocean planet 4546B - one that, as the game's subtitle very heavily implies, is a little bit icier, and a little bit chillier, than anything seen before.
Unknown World's standalone expansion entered early access on Steam and the Epic Games Store at the end of January, and today's update - known, appropriately enough, as the Seatruck Update - brings the first major additions to the in-development game.
Obviously, if you're saving yourself for final release, be aware that the following could be considered major spoilers.
The biggie, of course, is the Seatruck, an underwater vehicle that's so incredibly nifty that I already want to see it migrate over to the base game. Its main feature, one that makes it unique in Subnautica's vehicle line-up, is that it's entirely modular.
Built with the Mobile Vehicle Bay, you begin with a snug little cab (complete with cockpit and in-built reversing camera), then can start constructing other modules, each offering different utilities, which can be manually coupled and uncoupled as your whims dictate.
In the current build, up to three modules can be attached to the Seatruck, each one slowing the vehicle down just a little more. Alongside the cockpit cab, which gives the rest of truck power and life support, there's a mobile fabricator, a storage module for carting around equipment and supplies, plus an aquarium, used to gather live specimens out in the field. Unknown Worlds says that more modules will be added in the future.
That most certainly isn't all, however. The Seatruck Update also introduces two new biomes in the form of Deep Twisty Bridges and Thermal Spires. The former, warns Unknown Worlds, can exceed depths of 200 meters (and its foliage can sometimes be a little bit hostile), while the latter is home to Rockpunchers and Bonesharks.
Below Zero's existing fauna also gets some new friends (and enemies) in the latest update. On the jovial end of the spectrum is the nest-building Seamonkey, described as "the cheekiest aquatic critter on planet 4546B". Then there's the Squidshark, scourge of Twisty Bridges - and as upsetting as its name suggests. "Squidsharks will attack anything that comes close," explains the developer, "enveloping prey in their tentacle jaws and spearing it with sharp mandibles."
Below Zero's last new addition in the current update is perfect for those hankering to escape the icy waters for a little while at least. The Cargo Transfer Launchpad is a snowy, expansive island, featuring black sandy beaches, thermal pools, snow-dusted cliffs and an intricate cave system. At its highest point, explorers will find the Cargo Transfer Base and its rocket launchpad. BUT WHAT COULD IT ALL MEAN?
Subnautica: Below Zero is expected to remain in early access development for at least 12 months. But if you're too impatient to wait for the final game, Below Zero is available now, pre-release warts and all, from Steam or the Epic Games Store. It costs £15.49/$19.99 USD.
Become a Eurogamer subscriber and get your first month for £1
Get your first month for £1 (normally £3.99) when you buy a Standard Eurogamer subscription. Enjoy ad-free browsing, merch discounts, our monthly letter from the editor, and show your support with a supporter-exclusive comment flair!