Street Fighter's Ryu and Fire Emblem's Roy headed to Super Smash Bros. 3DS and Wii U
UPDATE: New characters, stages available now in £26 bundle.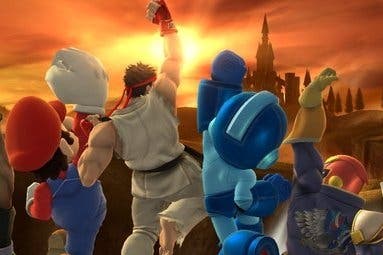 UPDATE: The Super Smash Bros. Nintendo Direct has now aired, and with it comes official confirmation of the Ryu and Roy character leaks detailed below.
The video also confirmed the return of Kirby's Dreamland and Zelda's Hyrule Castle N64 stages, along with the long-promised Miiverse stage.
What was surprising, however, was the immediate release of much of this content. Ryu, Roy and the previously announced Lucas are available to purchase now, alongside the Dreamland stage. The Miiverse stage is also available to download for free.
There's another pack of Mii Fighter costumes too, including costumes from franchises such as Virtua Fighter, Tekken, Animal Crossing, Mega Man and Splatoon.
You can purchase all of the above in a pack for £26.68/$29.16, or select each piece of DLC individually too.
Ryu costs £5.39 for download on either 3DS or Wii U, or £6.29 for download on both. Roy and Lucas cost £3.59/£4.49 each. Dreamland cost £1.79/£2.69 (thanks, Nintendo Life).
ORIGINAL STORY: Street Fighter's Ryu and Fire Emblem's Roy have both been spotted in a new patch for Super Smash Bros. on Wii U.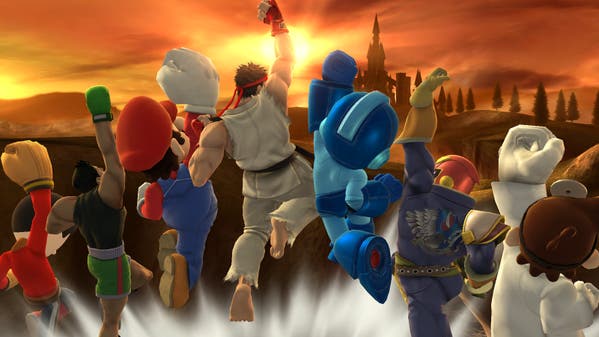 Nintendo's all-star fighter is due to add several new DLC characters - and we expect to hear in a special Smash Bros. Nintendo Direct due later today (Sunday).
It's likely both fighters will be confirmed then, and follow the launch of upcoming Earthbound character Lucas. It's unknown if they are available as a free addition, or paid add-on characters.
Roy is no stranger to the Smash Bros. series, although is something of a surprise returnee - the Fire Emblem series already has plenty of other representatives.
Ryu is even more of a surprise, although was spotted before in an earlier leak back in April.
Now, footage of the two new characters in action has appeared online - watch it below. Screenshots, character icons, sound files and more also now on Reddit.
The patch also reportedly contains data for a new Splatoon trophy and a couple of new stages: a level for Ryu from Street Fighter 2 and the returning fan-favourite Kirby Dreamland 64 stage.