Star Wars: Battlefront's closed alpha launches next week on PC
Sign-ups now live, invites already going out.
Star Wars: Battlefront is getting a closed alpha on PC next week and invites are going out now.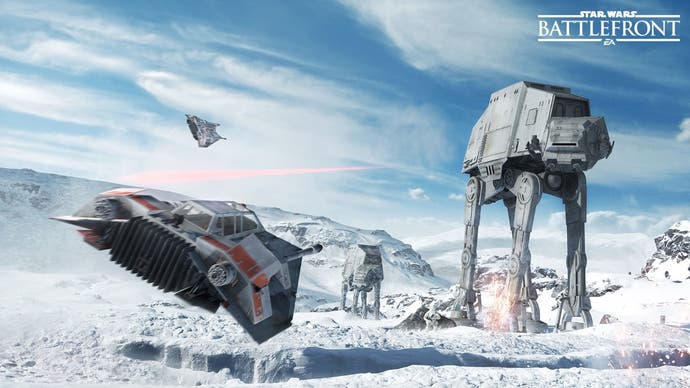 You can sign up for your chance to partake in the alpha on the Star Wars: Battlefront official site between now and 12.59am UK time Tuesday, 30th June.
As reported by GearNuke, the closed alpha will be available for pre-load on 1st July and will unlock on 2nd July at 2am.
"Available for Origin on PC only, the purpose of the Star Wars Battlefront Closed Alpha is to perform a number of technical tests that will help the team at DICE as they continue the development of the game," EA explained on the sign-up site.
In an email invite obtained by Polygon, EA noted that the alpha's performance "may be inconsistent, with possible issues such as server lag and downtime" and that progress will not transfer into the final game.
System specs for the closed Battlefront alpha are as follows (and will not be representative of the final game):
CPU: Quad Core CPU e.g. Intel Core i5-2300 @ 2.8 GHz or AMD Phenom II x4 955 @ 3.2 GHz or AMD FX-8350 @ 4.0 GHz
RAM: 6 GB
OS: Windows 7 SP1, Windows 8/8.1 (64-bit operating system required)
Video Card: NVIDIA GeForce GTX 680 or AMD Radeon HD 7970 with 2 GB of Video Memory
For more on DICE's upcoming space opera battlefield, our Tom Phillips just interviewed its senior producer Sigurlina Ingvarsdottir about why its AT-ATs are on-rails.
Star Wars: Battlefront is due on 17th November for PS4, Xbox One and PC.