Square Enix does crowdfunding with Ruffian's new game
New platform/service called Collective unveiled.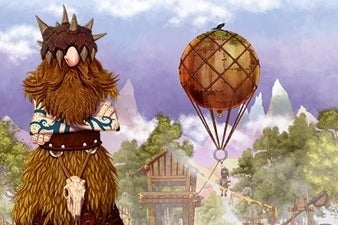 Crackdown 2 developer Ruffian Games is making a new PC game called Game of Glens - a charmingly styled compilation of competitive Scottish highland games.
It's one of three games hoping to find popularity on Square Enix's curious new crowdfuding platform Collective, where games have to go through a preliminary voting round before they even stand a chance at getting your dosh.
The idea, Collective's boss Phil Elliott told me in an email, is to build awareness for games ahead of their money gathering phase - use a bit of Square Enix's heft to give these games a better shot at success.
What's in it for Square Enix? Five per cent of whatever the game raises on Indiegogo, should the developer choose that route, and 10 per cent of net sales if Square Enix distributes. Developers don't have to do either, though, and can waltz off with another publisher "with our blessing", says Elliott.
Game of Glens is up there with action RPG World War Machine, made by new studio Turque Games, and open-world adventure Moon Hunters, made by another new studio called Kitfox Games.
If successful, the games will go on to be funded via Indiegogo and "may also" find support from Square Enix, in the shape of some kind of development mentoring and digital distribution help.