Series best UK chart debut for Monster Hunter World
Gajau-b.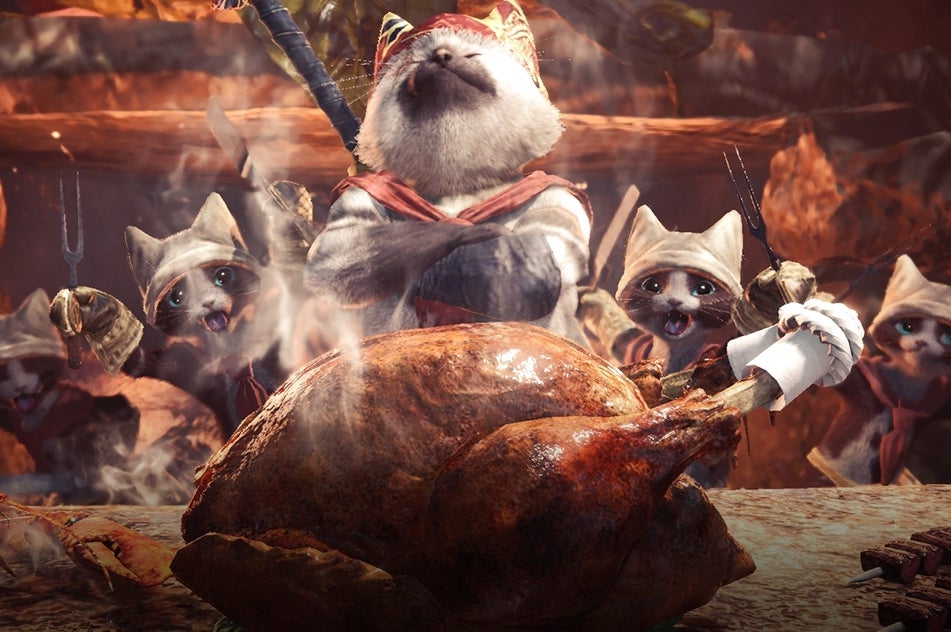 Will Monster Hunter World be the game to finally cement the series in the West? The big-bucks PS4 and Xbox One instalment is off to a strong start, recording a series-best UK launch, topping the UK retail video game chart.
GfK Chart-Track counted "far higher" week-one sales for Monster Hunter World than any other Monster Hunter game - the previous leader being 3DS game Monster Hunter Generations.
Dragon Ball - another long-running series - also scored a UK-chart personal best, with new instalment Dragon Ball FighterZ debuting at number two. Its previous highest debut had been third place in 2015 with Dragon Ball Xenoverse.
This week's other newcomer is two-hour virtual reality PS4 horror game The Inpatient, a prequel to Until Dawn, in 10th. How scary is it? Ian strapped on his headset to find out; the first of his two-part video series is below.
Both Monster Hunter World and Dragon Ball FighterZ are superb, by the way, and share common ground in being both the glitziest and most accessible games in their long lineages.
"Monster Hunter opens up for the most accessible, most detailed and most magnificent entry yet," our Monster Hunter World review said. If you are taking the plunge, we have a bunch of Monster Hunter World tips to help you.
Our Dragon Ball FighterZ review, meanwhile, said, "This is a game that grabs you by the scruff of your neck and, like Goku transforming into a Super Saiyan, blasts you in the face with an infectious energy you can't help but embrace. It is a game delicately crafted to appeal to newcomers ... [and] the best tag-based fighting game since Marvel vs. Capcom 2. I can't think of higher praise."
The rest of the UK top 10 is a reordering of last week to accommodate the newcomers.
Monster Hunter World
Dragon Ball FighterZ
Call of Duty: WW2
Fifa 18
Grand Theft Auto 5
Mario Kart 8 Deluxe
The Legend of Zelda: Breath of the Wild
PlayerUnknown's Battlegrounds
The Inpatient