Seeing in the new year with Resogun
Save the last human?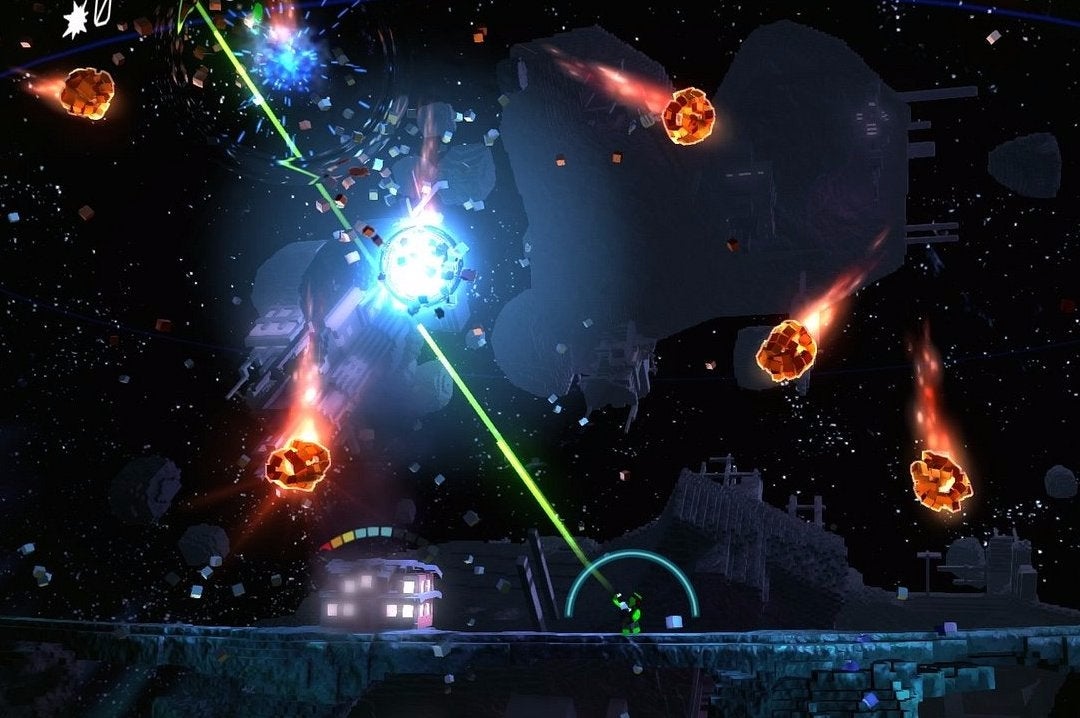 Between The Swindle and Invisible, Inc, 2015 was a pretty brilliant year for thieves, so I figured that my Christmas game would be Sly 4, which I'd missed upon its release, but glimpsed in passing. A world of midnight skies and clattering over rooftops: the perfect treat for late December.
I forgot, of course, that you can't choose your Christmas game - your Christmas game chooses you. My greatest Christmas game ever was found, several years ago, down the back of the sofa as Christmas Eve approached: Mario & Luigi: Superstar Saga. I remember returning to my mother's house that year, no significant others in tow, nowhere to be and nothing to do, and playing it solidly for two weeks: an adventure of pinks and purples and ceaseless surprises, interrupted only briefly, to see Roisin Murphy climb inside a Leslie speaker on Jools Holland.
Resogun was another unforeseen treat, rediscovered in very different circumstances, its sleek voxel spaceship selected by my daughter as it swam past on the PS4 dash, a bright fish in a strange aquarium.
Resogun wasn't what I had planned, then, but it turned out to be perfect: it's still the best looking game on PS4 for my money, fragmenting the screen into pretty colours as its swift-moving foes come apart under laser fire. It's ideal for Christmas, too, since its enemies have the flimsy metallic sheen of baubles. Commando mode, which was my great discovery of the last few weeks, even nodded to the seasonal horrors of floods in the north, as you protect a small blocky homestead, interior lights glowing, from wave after wave of cruel attacks.
Somewhere in Resogun, I think I rediscovered video games, too. Arcade shooters have always seemed like the purest strand of games, with their simple objectives, lavish explosions and immediate rewards, and as I played Resogun it felt like I was burning away the luggage so many fans of games accrue over the course of a year - vivid memories that seem, rather ominously, to be unsurpassable, frustrations over trends a little too thoroughly adopted, disappointments for the titles that looked so good in screenshots, but never felt quite right under the thumb.
Resogun's set me up perfectly for another year of games, in other words. There's the promise of Matterfall and whatever Housemarque's working on with Eugene Jarvis, of course, but there's also 12 months of promise lying beyond that - and, as ever, it will be the unforeseen treats that will probably make the biggest impressions.
Become a Eurogamer subscriber and get your first month for £1
Get your first month for £1 (normally £3.99) when you buy a Standard Eurogamer subscription. Enjoy ad-free browsing, merch discounts, our monthly letter from the editor, and show your support with a supporter-exclusive comment flair!