Sandy party game Tray Racers! will release next month
New release trayler.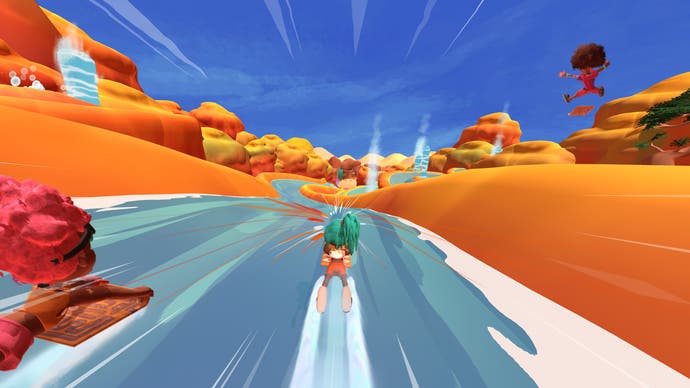 Tray Racers!, the free-to-play online party racer, now has a release date of 13th April.
The next game from Bit Loom Games, the creators of Phogs!, it will launch on PC and Nintendo Switch.
Alongside the free-to-play base game is the Tray Racers! Supporter's Pack that includes cosmetics only: the desert fox and robot characters. It's priced at £4.99.
Tray Racers! has players racing down sandy slopes on a tray, as the name would suggest.
It's set in a cosy post-apocalypse and has procedurally generated tracks consisting of multiple sandy biomes, with players racing for the top time in both the initial practice and a final race for a combined score.
I previewed the game back in January, describing it as "riotous, simplistic fun", reminding me a little of N64 classic Snowboard Kids but without the power-ups.
"Crucially, Tray Racers has that one-more-go factor thanks to its immediacy. If you're looking to indulge your inner-child, this is well worth a look."
Tray Racers! is available to wishlist now on Steam and the Nintendo eShop.