Resistance and Ratchet & Clank dev Insomniac reveals Outernauts
Debut trailer and screenshots inside.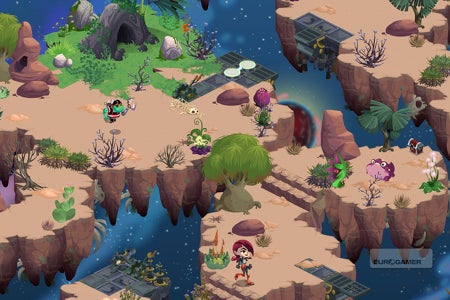 Resistance and Ratchet & Clank developer Insomniac Games has revealed its next title: Outernauts.
Outernauts, due out this summer, is a social Facebook game to be published by Electronic Arts. Indeed it is Insomniac's first social game.
Outernauts is an adventure role-playing game that sees players assume the role of a member of United Earth's elite Outernaut force. You caputure and train aliens as you solve the riddle of the mysterious "ancients". Oh, there are pirates and evil corporations to fight, too.
Expect planet exploration, loot harvesting, and multiplayer, either alongside or against Facebook friends.
Insomniac boss Ted Price said: "We see a huge opportunity to reach an entirely different audience of gamers through Facebook. As we have demonstrated for nearly 20 years in the console games space, we're confident we can help evolve the definition of a game experience on Facebook. With Outernauts, we are delivering a deep story with real RPG strategy, coupled with Insomniac's signature sense of humour."