Resident Evil Village - Special Chambers puzzle solution
How to solve the optional puzzle in the castle.
The Special Chambers is a room you initially can't have access to the first time you find it in Resident Evil Village's castle area.
Once you have the Iron Insignia Key, you'll then be able to return and see what's inside. Though it's optional, the rewards are worth it, with a quick(ish) puzzle to solve and some valuable Treasures to take away in return.
For help elsewhere in the game, see our Resident Evil Village walkthrough and list of Goats of Warding locations.
How to solve the Special Chambers puzzle in Resident Evil Village
Once you open the Special Chambers, a coffin ahead will be locked off.
There are two hanging braziers, and the aim of the puzzle is to light them both. But with no apparent light source, we have to do some work first.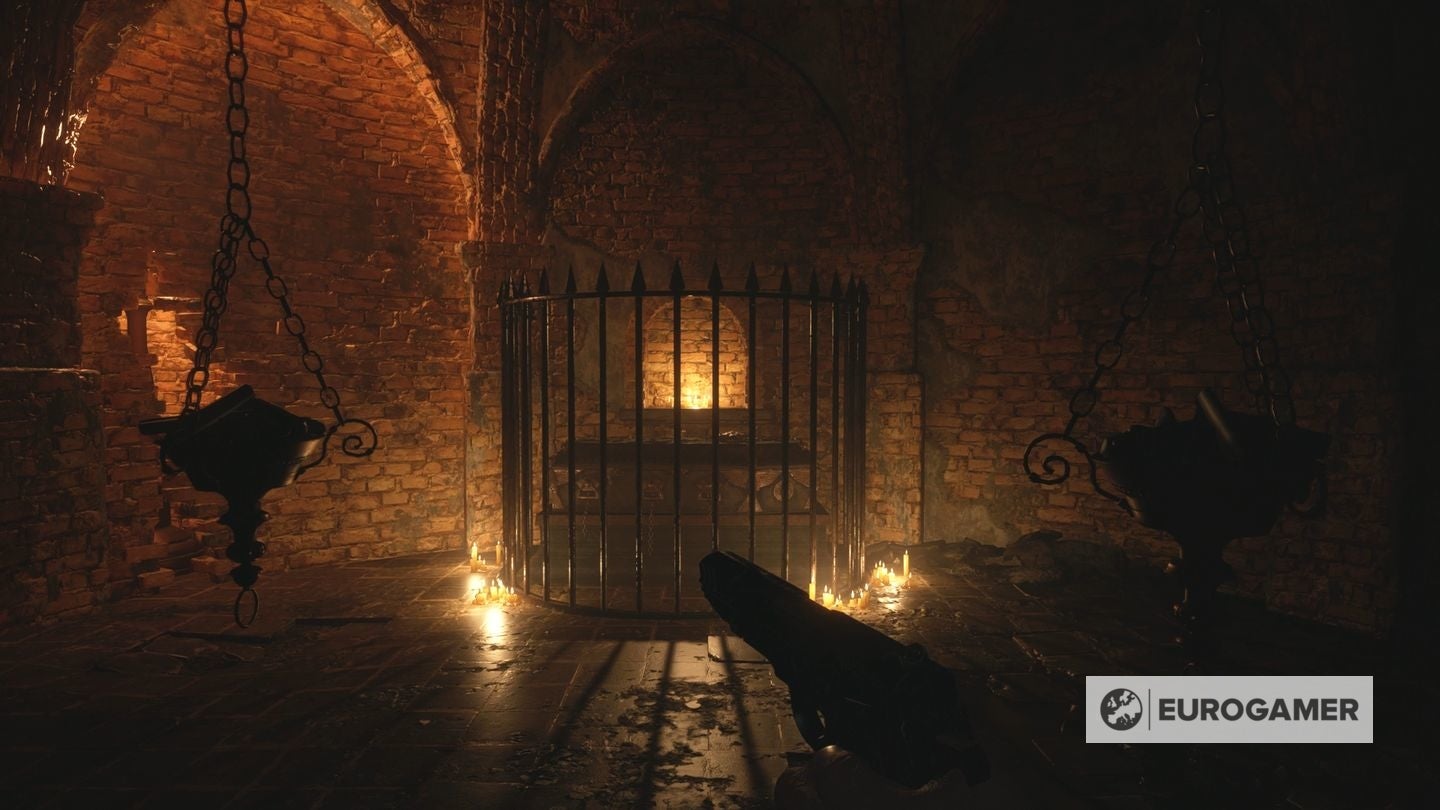 Check the alcoves for resources, including a pipe bomb. Elsewhere in the room is a partly dismantled wall to the left of the coffin.
Equip and throw a pipe bomb at the wall to destroy it. If you have used the pipe bomb - say you collected it, wandered off to continue the story then came back to this puzzle later - then it's possible you could use a Mine (which you can get from the Merchant) and detonate that instead. We didn't test this, but in theory, any explosion will do.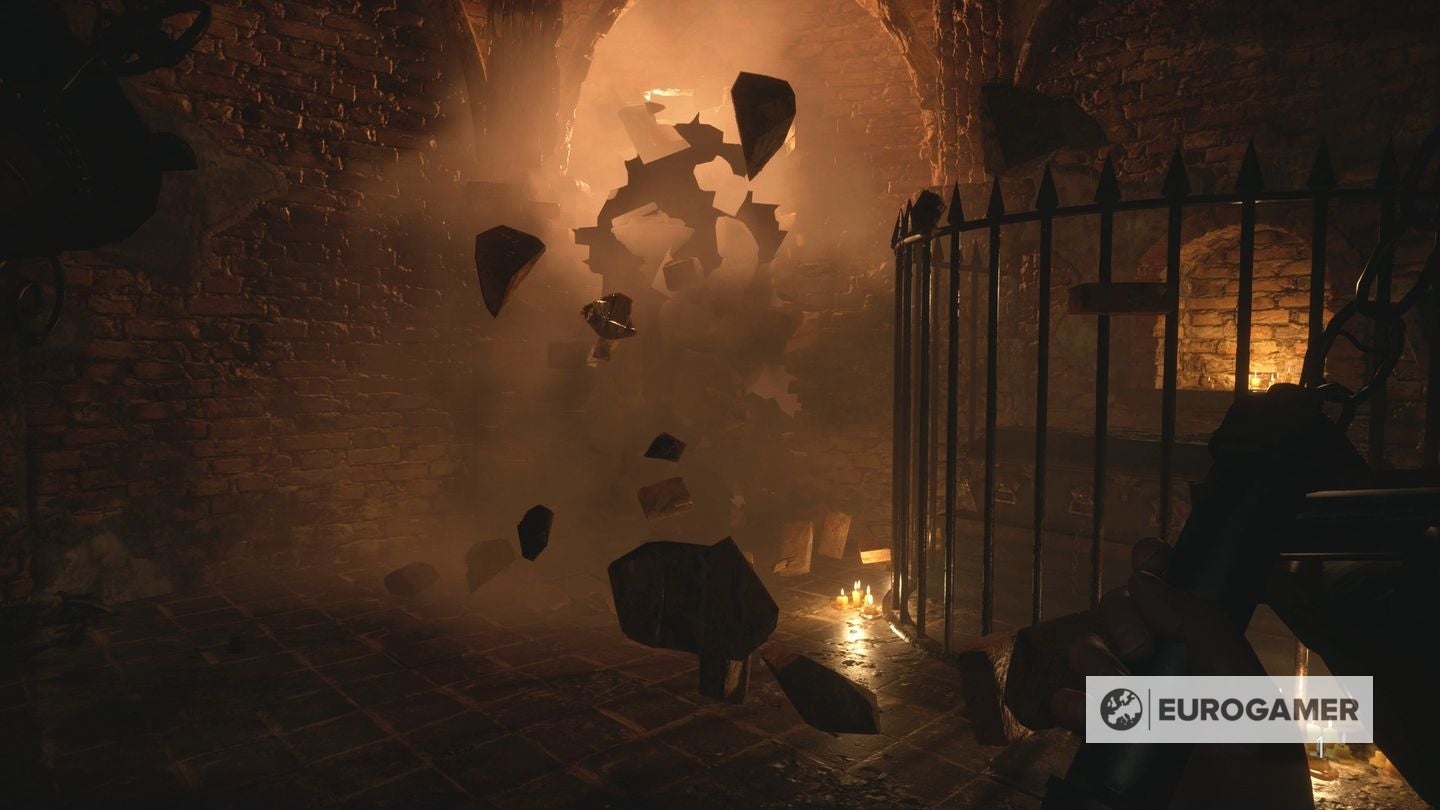 Once the wall is destroyed with the pipe bomb, explore behind it for resources - including the Crystal Fragment treasure - and make note of the newly exposed lit torch.
Back in the main room, push the closest hanging brazier to touch the lit torch inside the newly exposed wall. Note this isn't straightforward to do - it's not the most easy-to-control puzzle - so keep trying until it connects and lights up.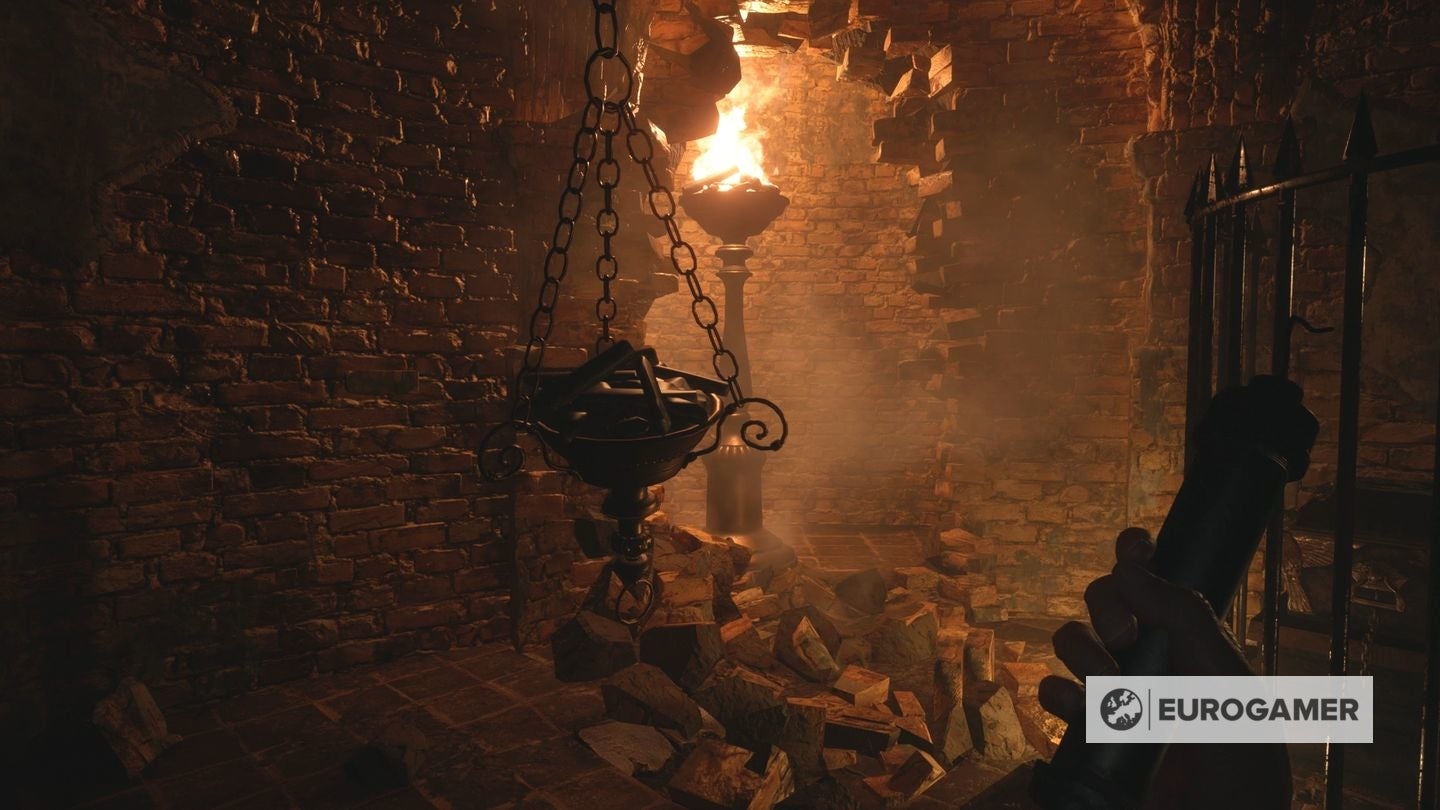 Now move the other brazier to the now lit one. Again, this is a case of awkwardly pushing them together until they light; we recommend moving the lit one so it starts to swing, then quickly pushing the right one into it. It's a faff, but keep trying and they will eventually connect.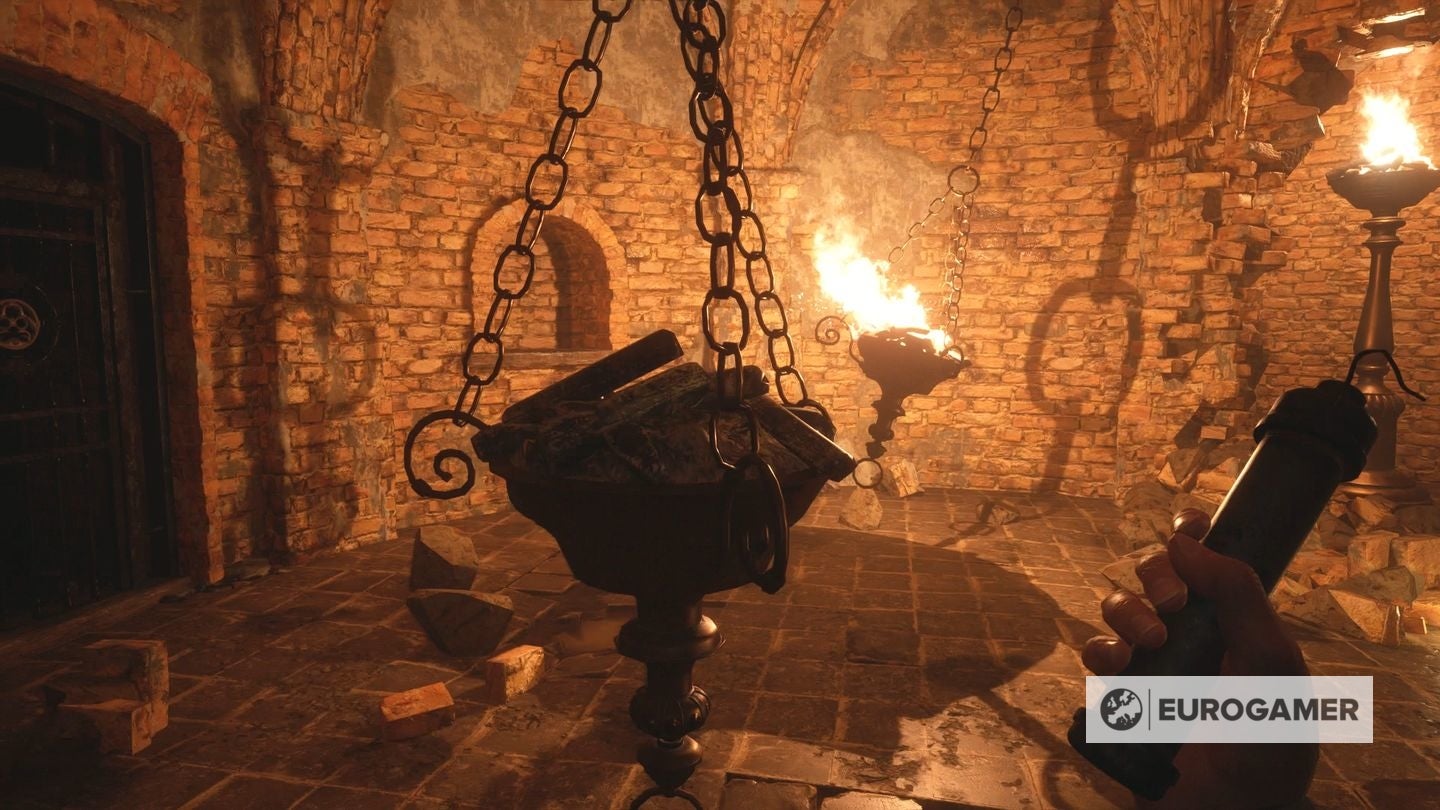 Once both are lit, the way to the coffin will reveal your reward - the Azure Eye.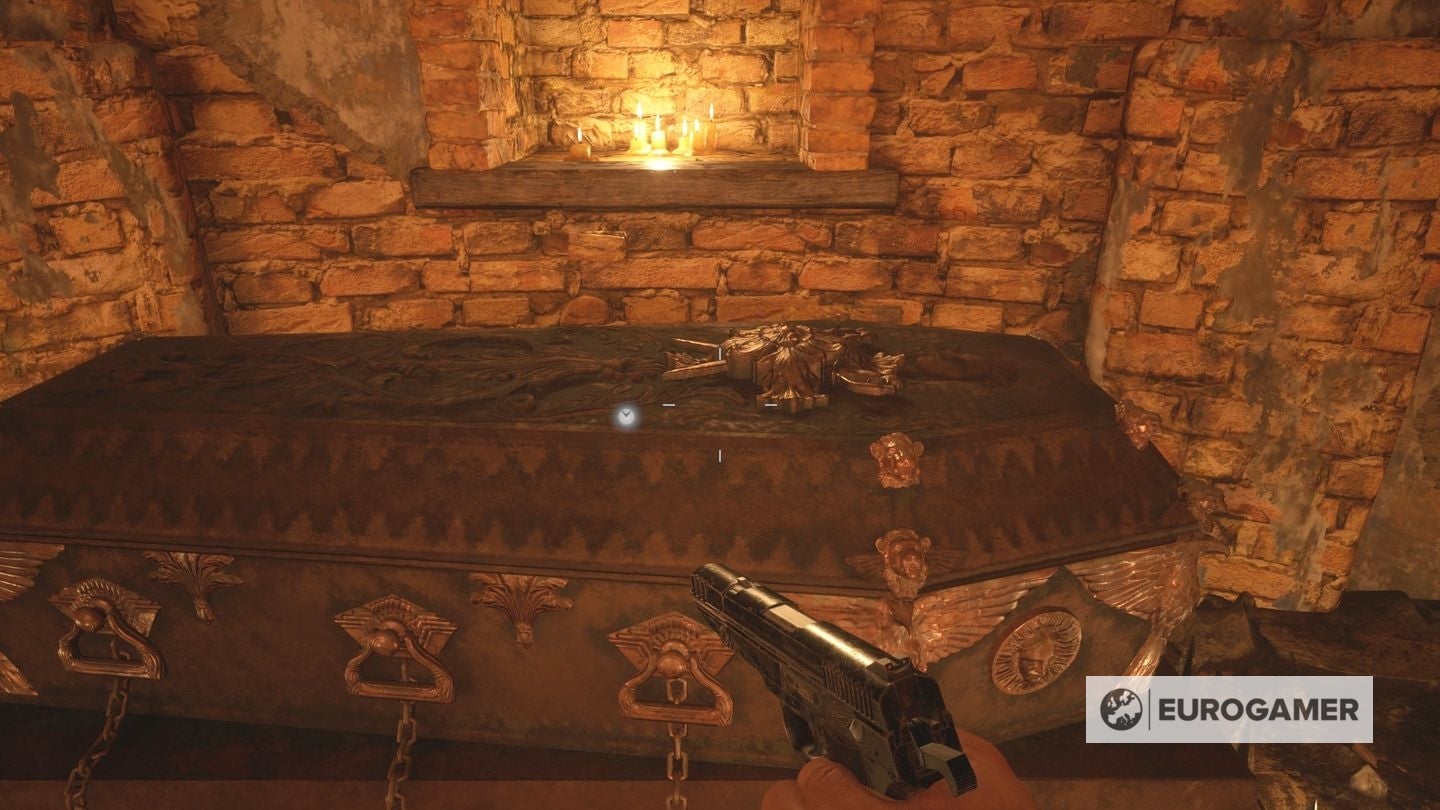 This is a treasure you can sell at the Merchant for 1200 Lei - not much, but that combined with the Silver Ring - found in the drawer in the Hall of Pleasure - you can create the Azure Eye Ring, which goes for a huge 12,000 Lei. Much better!
Looking for more help? Our Resident Evil Village walkthrough hub offers an abridged guide to completing the story.