Random Call of Duty: Modern Warfare glitch makes the game third-person
And it doesn't look terrible.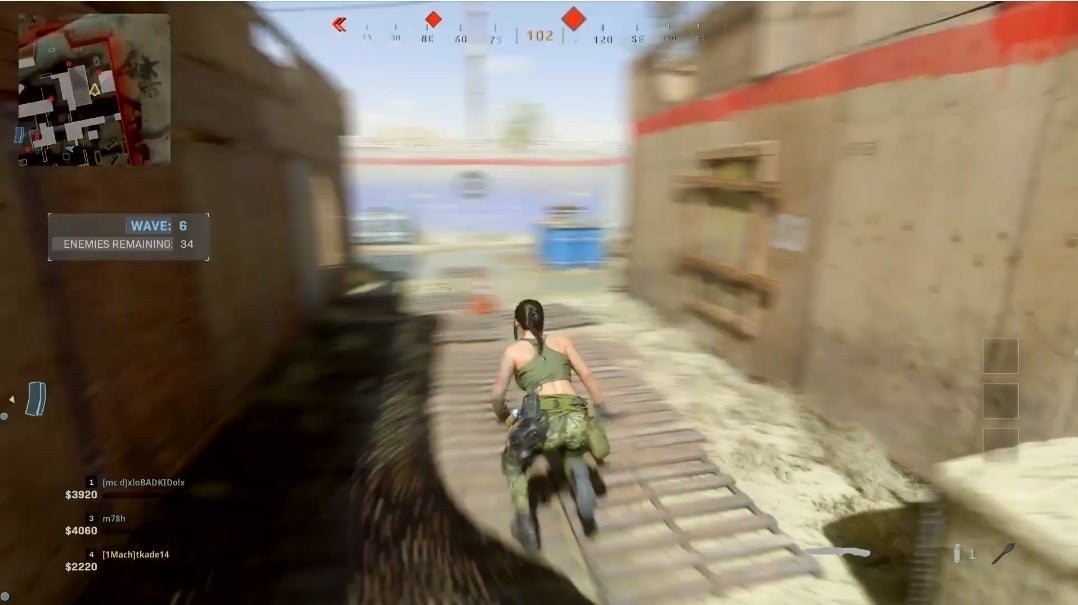 A Call of Duty: Modern Warfare player encountered a glitch that let them play in third-person.
The first-person shooter series never normally lets players change the player's camera perspective. But redditor Tkade14 found themselves playing in third-person after a glitch of some sort during a revive.
The video below shows Tkade14 running around the Shoot House map on the PlayStation 4-exclusive Survival mode, in third-person, slicing up AI enemies with a knife. While the character runs about unrealistically fast, movement looks fluid, and the camera position grants a decent view of the action, trailing the character neatly even with slides and knife attacks. We see the soldier fire a pistol in third-person, too, after being downed. There's no reticle, but we do see the red hit marker when Tkade14 lands a killing shot.
So, how did the glitch happen? According to Tkade14, the glitch occurred as they were being revived. In Modern Warfare, as a teammates revives your downed character the camera briefly pulls out into third-person. Tkade14 said: "Once I was revived, it didn't go back to first-person."
"Frankly, I would play wayyy more survival if I could run around like this all the time haha."
Tkade14 isn't the only person to encounter this glitch. A YouTube channel called The Gaming JELLY has a video of Modern Warfare's Survival mode played in third-person, this time with plenty of gunfire. We see the camera actually moves in when aiming down sights, which is how you'd expect a third-person shooter to work.
"I wash [sic] just playing Survival mode when a player went down. Went to go revive him when he/she left putting me in this cool glitch," The Gaming JELLY explained in the video description. "I hope they bring a third-person game mode, it was fun."
The Modern Warfare series has (officially) dabbled in third-person before. Modern Warfare 2's Team Tactical mode let players play with the camera pulled back, giving it a Ghost Recon feel.
And Sledgehammer Games, the Activision-owned maker of Call of Duty: Advanced Warfare and Call of Duty: WW2, was working on a third-person Call of Duty game before it was cancelled. The studio spent half a year on a prototype for a third-person game set during the Vietnam War in Cambodia, with unique mechanics possible due to the camera position.