Pure Chess launches on PS4 this month
Is the "definitive version".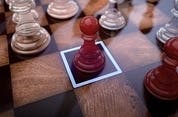 Pure Chess launches on PlayStation 4 on 15th April in the US and 16th April in Europe, publisher Ripstone has announced.
Pure Chess is developed by VooFoo Studios and is already available on a raft of platforms, including the PlayStation 3 and PlayStation Vita.
"The team at Voofoo did such a great job on previous versions, and set themselves a high benchmark for PS4," Ripstone creative director Phil Gaskell said.
"When gamers download this new version on next-gen consoles they will experience the step-change in visual fidelity. There are moments when playing this game where it genuinely looks better than real life."
Pure Chess on PS4 costs £4.99 / € 5.99 / $7.99. It'll be discounted for Plus subscribers.
A Pure Chess PS4 gameplay trailer is below.