Pro Pinball: Timeshock remake resurfaces on Kickstarter
UPDATE: Funded, with console stretch goals in sight.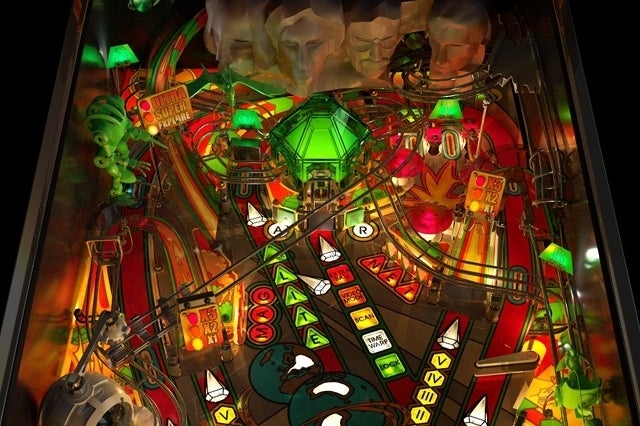 UPDATE: The Timeshock virtual pinball table has been funded and stretch goals have been added for various console versions.
The tally is currently at £44,995, which has funded versions for PC, Mac, Linux and iOS. At £50K an XBLA port will be added, £55 for a PS3 port, £60 for 3DS, £65 for Wii U, and £70 for Vita.
Timeshock's campaign only has two days left before the 14th September deadline, so it doesn't sound like many of these will be met, but it could maybe hit a console port or two.
Original Story: Last year Pro Pinball creator Adrian Barritt attempted to reboot his critically-acclaimed PC series with a host of crowdsourced Pro Pinball remakes. Unfortunately for Barritt, the Kickstarter campaign was unsuccessful. Now, almost a year later, the virtual pinball wizard is at it again with a more modest Kickstarter campaign to only remake one of his games, 1997's Pro Pinball: Timeshock.
This time around he's been vastly more successful. Within only a few days Pro Pinball: Timeshock: Ultimate Edition has achieved more than half of its £40k goal with 39 days still to go.
So why was Barritt so successful this time after his previously less than stellar campaign? "In my opinion, last time around we tried to do too much all at once; Completely remaster the 4 original tables, whilst creating a totally brand new one," Barritt told me in an e-mail correspondence. "This meant we had to ask for quite a lot of money, an amount that many thought was unreachable. Understandably some people don't want to risk backing a project that they don't think will succeed, this can then turn into a self fulfilling prophecy."
"This time we boiled down the Kickstarter to absolutely minimum, one table on the simplest platforms to write for. This enabled us to ask for a lot less and hit to 50 per cent point in just a few days."
He also noted that the downloadable lighting demo helped the Pro Pinball series get a lot of likes on it Facebook page, which he hopes are being converted into pledges.
Aside from Pro Pinball in the 90s, Barritt has remained a developer in the virtual pinball industry, having worked on such titles as Mario Pinball Land, Metroid Prime Pinball, and Pinball Pulse: The Ancients Beckon at his previous company Silverball Studios.
£5 pledges will receive the Timeshock remake for iOS or Android upon its estimated December release, while those who donate £10 will reserve it on a platform of their choice.
So far Timeshock is in development for PC, Mac, iOS and Android, but Barritt said he'd like to add stretch goals for OUYA, Linux, XBLA, PS3, Vita, 3DS and Wii U releases.
Ultimately, Barritt would still like to make remakes of other Pro Pinball titles such as: The Web, Big Race USA and Fantastic Journey.
The current tally comes to £22,493. Additionally, Pro Pinball: Timeshock is looking for support on Steam Greenlight.
[Editor's Note: While writing this story I nearly let slip a typo where I called it "Timesock," which sounds like the raddest 80s movie that never was. Just imagine: Corey Feldman gets a pair of ugly holiday socks for Christmas that his mom picked up from a gypsy on a street corner. Then, begrudgingly, to make his parents happy, he wears them to Christmas dinner only to discover that they WARP HIM THROUGH TIME!! Of course, his bully will naturally encounter a pair of Timesocks too and they'll compete in King Arthur's court to win the hand of a maiden played by Molly Ringwald. Timesock: coming to theaters this Christmas!]
Will you support Eurogamer?
We want to make Eurogamer better, and that means better for our readers - not for algorithms. You can help! Become a supporter of Eurogamer and you can view the site completely ad-free, as well as gaining exclusive access to articles, podcasts and conversations that will bring you closer to the team, the stories, and the games we all love. Subscriptions start at £3.99 / $4.99 per month.