Postponed Xbox One version of Spider-Man 2 available to download
UPDATE: Major Nelson post claims game is "now available".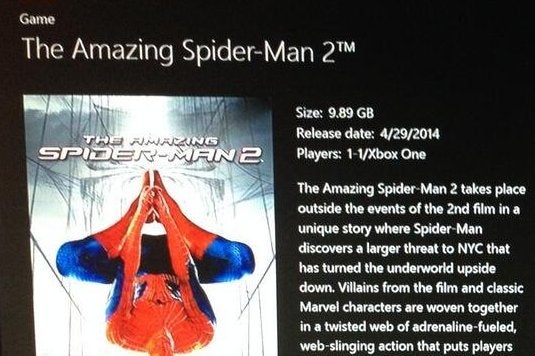 UPDATE #2 3.25pm: Microsoft's Major Nelson blog has posted to say that game is "now available on Xbox One".
With no reference to the ongoing confusion surrounding the game's release, the post simply states that the title has launched and it is available (in North America, at any rate) to purchase now.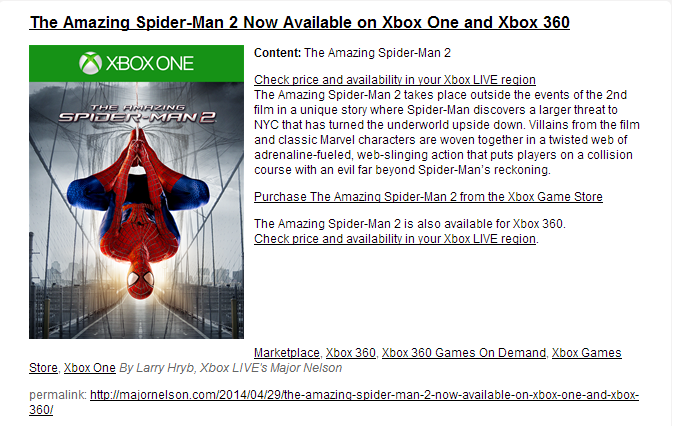 UPDATE #1 10.25am: It looks like the game is still available to download - if you access the US version of the store. If this link auto-redirects to the UK page, hit "United Kingdom" at the page's footer and then select "United States". And there it is - priced $59.99.
ORIGINAL STORY 10.00am: Gamers have managed to obtain digital copies of The Amazing Spider-Man 2's indefinitely postponed Xbox One version.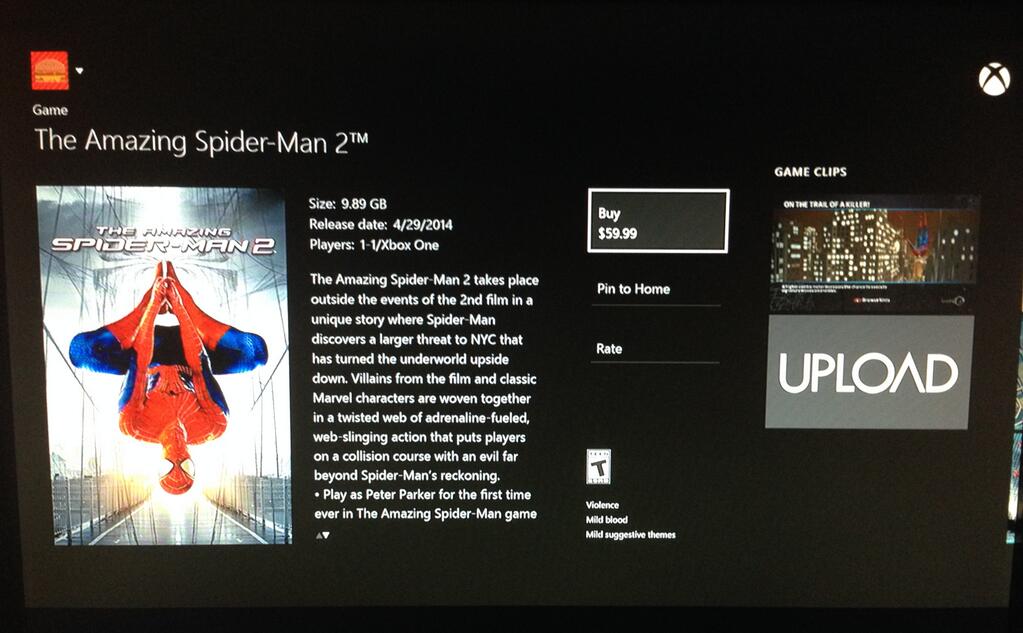 The title was made available to download from the Xbox Games Marketplace site (although the page offers up a broken link [Edit: in the UK, at least - see above]) and via the Xbox One dashboard (thanks, Wario64).
One user is currently streaming his playthrough via Twitch - the game appears to work fine, with no obvious bugs that might keep the version off shop shelves.
Spider-Man developer Beenox has remained quiet on the delay's cause, but acknowledged via Twitter today that the whole episode had been "frustrating".
"We remain hopeful [of an Xbox One release]," Beenox wrote. "We know it's frustrating for all of you, as it is for our programming team, who worked hard on the game."
Xbox One editions of the game remain available to pre-order online in the UK via GAME and Amazon, although the version's release date now lists the title for a "TBA" launch.
Activision previously confirmed the game's postponement to Eurogamer and said it would collaborate with Microsoft "in an effort to release" the title at some point.
"We are working with Microsoft in an effort to release The Amazing Spider-Man 2 video game on Xbox One," an Activision spokesperson told us. "Currently, the game will be available on PlayStation 4, PlayStation 3, Xbox 360, Nintendo Wii U, Nintendo 3DS and the PC on 2nd May, 2014 as previously announced."