Pokémon Go fans contact ASA over Liverpool ticket price advertising
UPDATE: Niantic apologises, updates prices.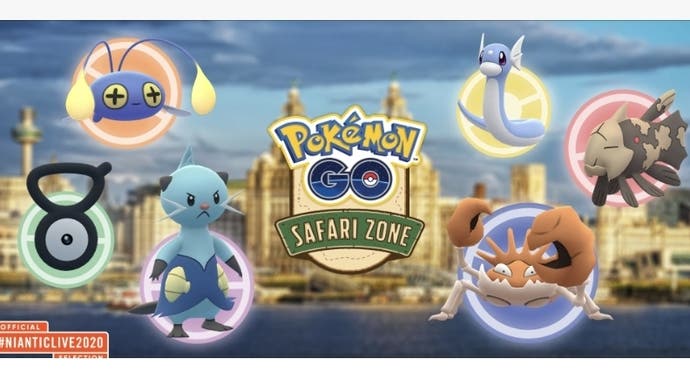 UPDATE 6.45pm: Niantic has now updated its ticket pricing for Liverpool's Pokémon Go Safari Zone event.
"Previous advertising for Pokémon Gp Safari Zone Liverpool tickets didn't include the service fee and VAT costs," a Niantic spokesperson told Eurogamer this evening. "We're updating all ticket listings today.
"The ticket pricing is now listed as: '£21.60 for Early Access and £14.40 for General Admission. A £3.60 service fee will be added to each order (up to 4 tickets per order). The City Explorer Pass add-on is £9.60. All prices are inclusive of VAT.'"
On Twitter, Niantic's support account apologised, describing the situation as an error.
Previous advertising for Pokémon GO Safari Zone Liverpool tickets didn't include the service fee and VAT costs. We're updating all ticket listings today. We apologize for the error. https://t.co/XZNg4K5PjA

— Niantic Support (@NianticHelp) February 14, 2020
---
UPDATE 4pm: The UK Advertising Standards Authority (ASA) has confirmed to Eurogamer it has so far received more than 180 complaints about Pokémon Go's Liverpool event pricing since tickets went on sale at 8am this morning.
As we reported this morning, below, developer Niantic's advertised ticket prices do not include the tax and fees which fans were surprised to find added just before checkout.
In a statement to Eurogamer, the ASA branded Niantic's advertising as "misleading" and confirmed it was now in contact with the developer.
"We can confirm that we've so far received over 180 complaints about the advertising of tickets for this event," an ASA spokesperson said. "We consider the omission of taxes and service charges in the ad is a clear problem under our rules.
"We are in the process of contacting the advertiser so that we can instruct them to amend their misleading advertising."
Eurogamer is yet to hear back from Niantic - we'll update when we hear more.
---
ORIGINAL STORY 10.30am: Pokémon Go fans have found their tickets to the UK's first Safari Zone event cost more than expected - due to the addition of previously-unmentioned tax and fees just before checkout.
Liverpool Safari Zone event tickets went live this morning at 8am UK time and - up until the ticket-buying process' penultimate screen - are listed as either £12 for a standard ticket or £18 for early access entry.
This is the price also advertised by Niantic in its blog post announcing the event and in-game news post, which do not mention any additional taxes or fees are necessary.
But on reaching the latter stages of the ticket selection process, a £3/£4.20 charge for "tax" and a further, flat £3 charge for "fees" is then applied.
This makes the £12 standard ticket jump to £18, while the £18 early access ticket actually costs £25.20.
That's all without the additional City Explorer Pass, which bumps the tax category even higher - £4.60 for a standard ticket, or £5.80 for one with early access.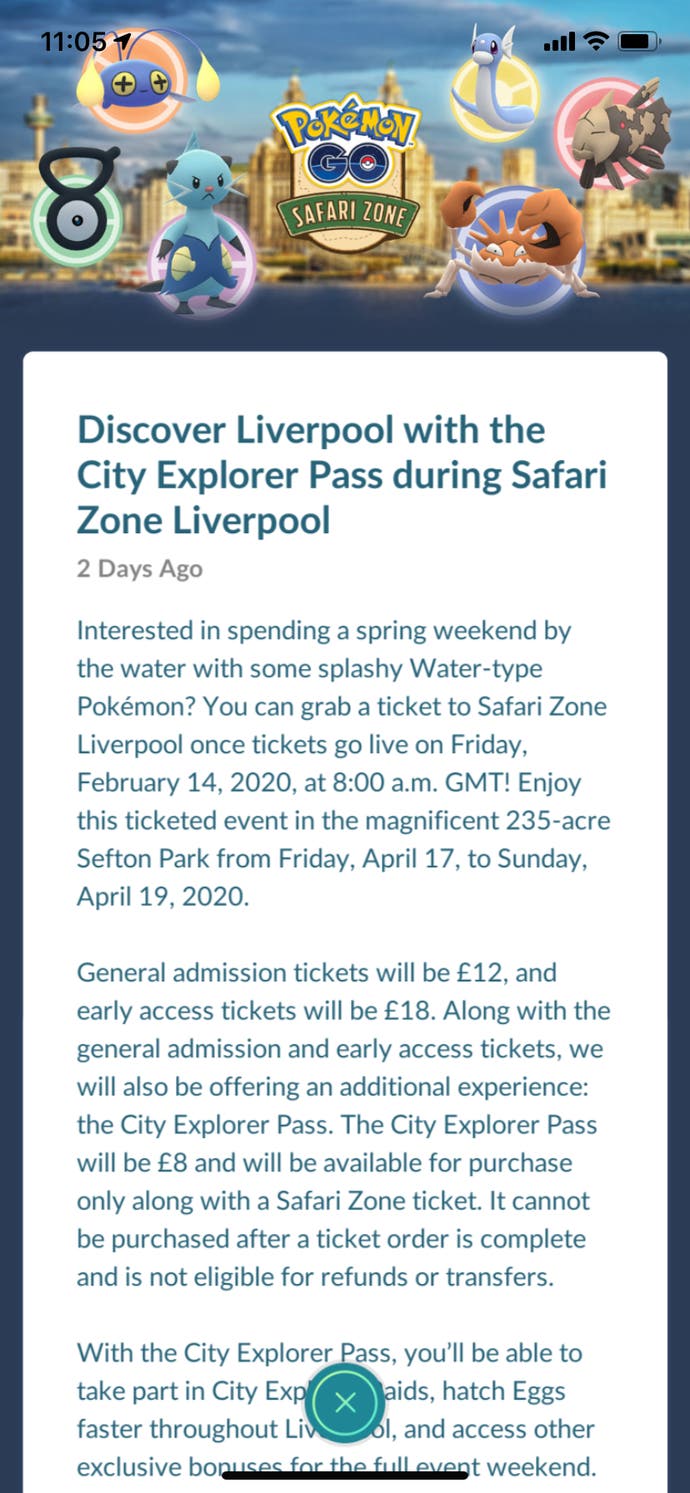 Now, fans have said they are contacting the UK's Advertising Standards Authority (ASA) to state that Niantic should have disclosed the need to pay tax on top of the ticket prices listed.
This is not the case in the US, where Niantic is based. But in the UK, the ASA guidance on this appears clear:
"Rule 3.18 of the CAP Code states that 'quoted prices must include non-optional taxes, duties, fees and charges that apply to all or most buyers'."
The only exception would be for costs to taxpayers who would normally recover VAT, or for those who pay none in the first place. Neither category is likely to apply to most ticket buyers.
"Consumers usually have to pay VAT and can't generally recover it," the ASA continues. "If customers are consumers, all prices quoted in ads should include VAT in the stated price."
Associated costs, such as the "fees" Niantic adds, should also be stated upfront.
Eurogamer has contacted Niantic and the ASA. We'll update when we have a response.