Play Doctor Who: Worlds in Time MMO today
First trailer released. Full launch Q1 2012.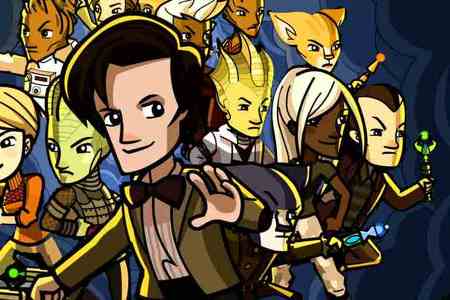 The Doctor Who free-to-play MMO is now in open preview, the BBC has announced.
Doctor Who: Worlds in Time is a casual MMO from BBC Worldwide Digital Entertainment and Games and developed by Three Rings, the Sega-owned studio behind MMO Spiral Knights. It is the first-ever multiplayer game based on the Doctor Who television series.
You can play now at DoctorWhoWIT.com. There's a new trailer, below.
The BBC said it's perfect for devotees of the show looking for a quick pick-up-and-play game. If you like social engagement you'll enjoy it, too.
You choose from four races and customise your character. You then join other players, embark on missions identified by the Time Lord and defend civilisation.
You get to explore Skaro, Messaline, The Library and New New York, and encounter Daleks, Cybermen and Weeping Angels.
As with most free-to-play games, money is made through micro-transactions. You can "enhance" your experience and "accelerate" your progress by buying Chronons, which help you complete missions, customise your character and build bits and bobs.
"Our goal with Doctor Who: Worlds in Time is to expand engagement with the immensely popular Doctor Who brand and allow fans to deeply immerse themselves in that universe," said BBC Worldwide Digital Entertainment and Games boss Robert Nashak.
"The game's multiple worlds, its varied, wonderful characters and monsters, and changing story arcs will appeal to both Doctor Who fans and casual gamers alike."
Doctor Who: Worlds in Time launches commercially in the first quarter of 2012.