Payday 2, Brothers help Starbreeze to historic profit
"That is what they call a turnaround."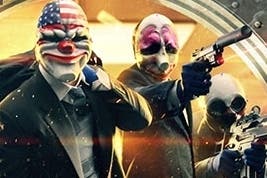 Payday 2 and Brothers: A Tale of Two Sons have helped Swedish developer Starbreeze turn around its financial fortunes.
A new financial briefing from the company has revealed the success of both games and Starbreeze's plan for the future: more Payday 2 content and a continued focus on owning its own brands.
"To put the past six months in perspective, I would like to highlight that Starbreeze historically, from 1998 to June 2013, accumulated a total loss of SEK 94 million (£8.66m)," Starbreeze boss Bo Andersson explained.
"Thanks to our new business model, reorganisation and a focus on our own brands, we have - in only two quarters - generated a profit before tax of SEK 104 million (£9.59m). I would like to think that is what they call a turnaround."
Payday 2 is now the fifth largest player community on Steam, with over 350,000 active members. And there's no sign of the heist shooter slowing down - Starbreeze has just signed a new $6m (£3.6m) contract with publisher 505 Games to continue developing Payday 2 over the next two years.
Brothers, meanwhile, has now turned a profit, and sold well over the last quarter due to its inclusion in Steam sales and its appearance on multiple 'best of 2013' lists.
It's a far cry from the developer's fortunes in 2012, after it teamed with EA to release the poorly-received Syndicate reboot.
"We now have a large cash reserve, have created a stable cost structure, a modern business model," Andersson concluded. "We have continued full control of our own brands and have placed ourselves into a position where we have three games [including the original Payday] that generate royalties every single day."