Paul Pogba just "signed" for Call of Duty: Warzone's Verdansk FC - and Man U fans aren't impressed
Friendly fire.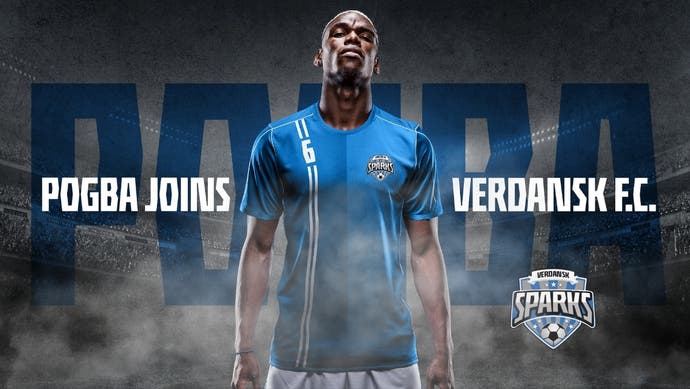 Manchester United fans who've never heard of a Call of Duty, a Modern Warfare or a Warzone before got a fright today after star midfielder Paul Pogba announced he had "signed" for Verdansk FC.
It's a PR stunt, of course, a paid promo for Activision's wildly popular battle royale - and easily dismissed by those familiar with Warzone's newly-opened stadium.
But some people actually thought Pogba was off - a not entirely unrealistic development given Pogba's attitude, although you'd like to think the World Cup winner could do better than the Verdansk Sparks (TIL the Warzone canon football team's actual name, and the stadium has a name: the National Acropolis Arena).
Pogba's tweet even includes a picture of him wearing a Verdansk FC shirt - all plopped in the timelines of his 7.5 million followers.
I think it's fair to say some of the replies aren't overly enthusiastic about the plug. Here are a few of my favourites.
What's extra delicious about this wonderful troll is Man U fans are currently anxiously waiting for Pogba to sign a new contract. Perhaps Instagram star Jesse Lingard would have been a better choice, at this most stressful of moments.
Activision has gone all in on this, of course, and even supplied press with Pogba's favourite loadout in Warzone. Spoilers: Pogba is meta, although he might want to rethink his primary after last night's Bruen nerf:
Primary weapon: The Glitch Bruen MK9
Secondary weapon: Open Season Kar98k
Lethal equipment: C4
Tactical equipment: Heartbeat sensor
Perk one: E.O.D
Perk two: Overkill
Perk three: Tracker
Ah well. No harm done, unless you're Gary Neville I suppose. I expect he really wouldn't approve of any of this.