Project Gotham Racing 3
Live from Japan: Serious kudos is in order.
The room goes quiet for a second. Some cynical git (yours truly) decides to ask about the frame rate. Design manager Gareth Wilson takes the question. "This version's running at 30 frames per second. We're aiming for 60." Does he think they'll hit it? "We'll see how we go. It's all about timings. If we had four months we could get it running at 60. It's whether we've got the time." With precious time to reflect even on that, the conversation lurches in another direction.
Fittingly, Bizarre Creations is in a hurry in every respect. Standing in Microsoft's Japanese headquarters the morning before the Tokyo Game Show, Gareth and his cohort Ben Ward look knackered, and they've just pelted through a one-hour presentation in half the time so that we ourselves can race off to hear Microsoft announce that the Xbox 360 will launch on December 2nd in Europe - with or without their game in tow.
Development on Project Gotham Racing 3 is permanently stuck in fifth gear - and so's much of the game. The 80-plus cars all had to have a 170mph top-speed at the absolute minimum, the levels of detail have shot so high that the Microsoft rep in the back of the room has to remind Wilson to mention it's 80,000 polygons per car (in case we're tempted to report it's only a few shades above PGR2), they joke about new bugs they spot during the presentation, and Ward admits he only tried out the Route Creator feature for the first time that morning. Indeed, the frame rate is just about the only thing off the pace. But does it really matter?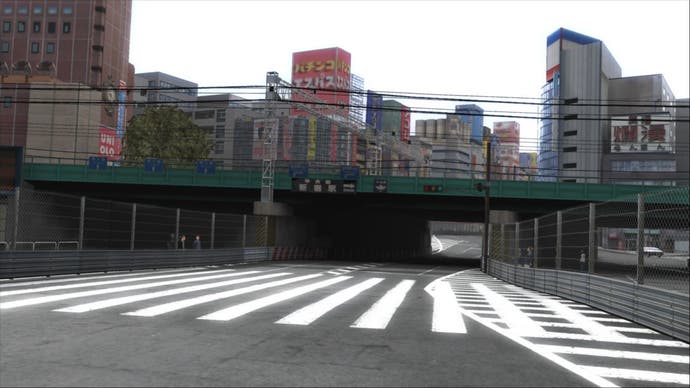 "In the next generation frame rate will become much less important," says Wilson, "because when you apply HDR and these lighting effects and run with motion blur, you can't tell the difference at 60. You don't notice that much difference because the motion blur takes a lot of it away." We'll have to wait until we're playing it to decide if he's got a point, but watching the two of them pound through a Tokyo circuit it's obvious to see why they're having to work hard to optimise the game.
Taking a close look at one of the cars, the real-time mapped reflections running over those 40,000 exterior polygons are the first thing to catch your eye, but they're just the start. The bloom effects from the sun, the heat haze on the exhaust, the real-time reflections in the wing mirrors as you marvel at some of the 40,000 interior polygons from the cockpit view, the authentic speed-o-meters; they all add up. Car audio, too, has been improved - the sound changing dramatically as you step inside the door.
It may be a game in a hurry, but it's trying not to forget anything. On the Ferrari F50, Ward says, you can actually see the individual wingnuts on the rear spoiler. And you can damage them too, break the wing mirrors, and generally mess up the exterior to the same extent that you could in Gotham 2 - albeit to a much greater magnitude of detail. The only performance car-damage affects is technical; Gotham's always been about going fast even if you hit things. Losing Kudos is the punishment for that.
Outside the cars the environments are hugely detailed. The crowd is a mass of polygonal bodies, flash-bulbs going off all around, and if you stop and have a look you'll even be able to read some of the slogans on the spectators' t-shirts, and note the fact that each of the city settings has a crowd comprised of the correct ethnic groupings. As you bash into a barrier, they actually leap back from it in surprise. Meanwhile, the buildings you swoop past are accurately modelled based on hundreds of thousands of photographs snapped from every angle, all the windows reflect what lies outside of them and all the little details stand out.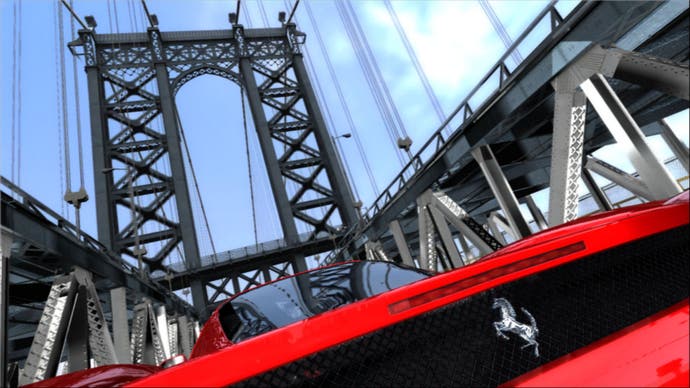 Except... they don't really stand out. PGR3's visuals may be hugely detailed, but there is a feeling of artificiality to them - as if they've been constructed more than they've been designed. Whether this will bother anybody who simply wants to play a gorgeous racing game is best left to the reviewers, but it's something we definitely noticed - perhaps best illustrated by the way that awnings on buildings, for example, aren't actually protruding. This is still a game of flat blocks, even if they're blocks mapped with ridiculously high-resolution textures.
What does stick out, however, is high-definition - and those who don't want it get a nice consolation. Ideally displayed in 720 progressive-scan with 2x anti-aliasing, the game doubles the anti-aliasing effect - smoothing over any jagged edges you might see - should you be playing in regular 640x480. And if you want to pause and admire the game's good looks, you can do that too. Like Gran Turismo 4, PGR3 has a Photo mode, except this one can be accessed at any time, and lets you change the camera position as much as you like, adjust settings similar to a real camera (shutter speed, focus, aperture, sepia, etc.) and then save the results to the hard disk. Those more interested in the live spectacle can take advantage of full rewind in replay mode too.
This talk of "live spectacles" brings us neatly onto the game's Online modes, and specifically, first of all, Gotham TV, with which you can either aspire or simply admire. Available to all PGR3 owners (even those with a plain Xbox Live Silver subscription), Gotham TV allows up to 30,000 people to tune in and watch a feverish race in progress via the Heroes Channel - picking it up either from the start or wherever the racers in question have gotten to - and these races can be replayed and rewound too. If you're really good at PGR3, you may even find your online races are broadcast - and the game will notify you if they are.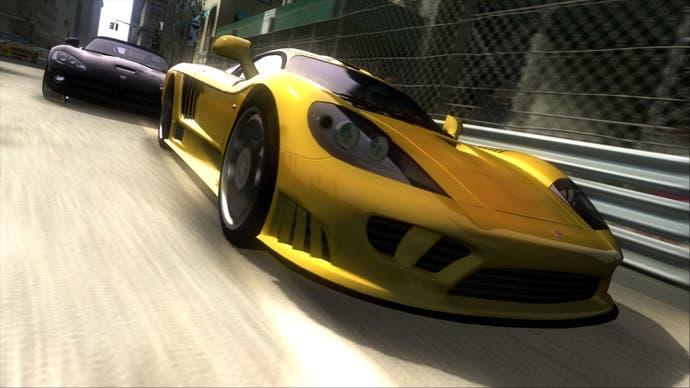 Another feature of the Online Gotham TV area is the news ticker. Similar to the sort you find on websites, this is a personalised stream of information relating to online achievements. If somebody breaks the world record on a particular London circuit, for example, you can quickly access that replay and see for yourself; while the ticker will also alert you when friends come online or complete certain goals. When Kristan finishes the Solo Career mode, for example, the PGR3 will tell me - assuming I'm still playing it in four years' time.
The online implementation last time was widely hailed by critics, but Bizarre has worked hard to make sure PGR3 learns from it and improves upon it. Obviously it's planning tournaments (a few months after launch apparently - with qualifying sessions leading to knockout stages), but more interesting is the Online Career option. You'll still be able to fly the single-player Career mode solo, beaming your accomplishments to leaderboards whether you're an Xbox Live Silver or Gold user, but if you choose you can also race it against other players - who will be matched to provide the right sort of skill-level opposition. Like a lot of Xbox 360 games we've encountered, PGR3 pays close attention to your skill level and reacts to it.
Plus, in a move clearly designed to help us incorporate the words "better than Halo" in our preview copy, Bizarre's trumpeting the inclusion of the Trueskill ranking system with gusto. Designed by research graduates, Trueskill is available to all Xbox 360 developers, and Wilson says it's similar in terms of accuracy and judgement to chess rankings. He also says it's "much more accurate than Halo 2". Cheeky scamp.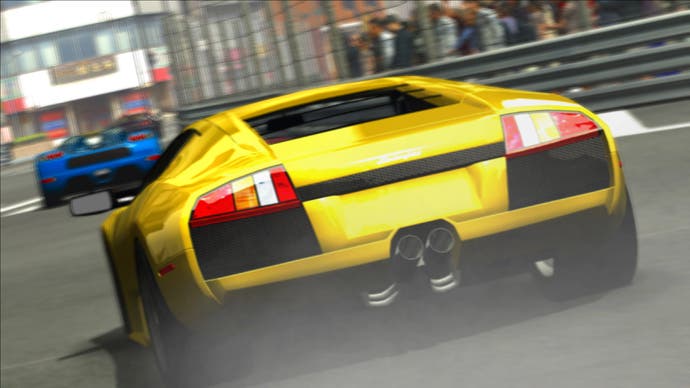 As well as helping to pick the really skilled players (me) apart from the really rubbish ones (Kristan), Bizarre's also been keen this time to make another distinction: between those who take their racing seriously and those who just want to muck about. Those two sets of groups don't overlap precisely, and it's an important distinction to make - that's why there's a Career mode and a Playtime mode. Instead of complaining bitterly about the sort of folks who wanted to block the track and play cat and mouse in Gotham 2, Bizarre's given players the option to customise and segregate. You can opt for Street Races, Team Street Races, Eliminator and its Team equivalent (these rule out the losing player at the end of each lap), or Capture the Track. The latter involves posting the best times in each "split" of a particular course to control the area over several laps, and sounds ingenious. And you can of course play offline, customising your races down to the AI skill levels of individual racers.
Those who do take the game seriously will be pleased to learn that you can play through the Career mode using the cars you want when you want. There's no "SUV section" any more, and if you truly hate the Mini you can just ignore it as you cane through the usual array of Street Races, Drift Challenges and Cone Challenges. And while Bizarre's stuck with Gotham 2's medal system - a clear concession to accessibility after the first Gotham was accused of being "too hardcore" - it has been sure to work hard at that last 10 per cent of the game, so much so that you can apparently feel the difference between Ferraris and McLarens, however subtle it might seem to most.
What's perhaps slightly worrying about all of this is that neither Bizarre Creations staffer alluded to any changes to the Kudos points system during our pre-TGS presentation - despite the fact that the game was apparently code-complete and merely going through the tireless process of pre-release optimisation. Kudos is one of Gotham's crowning achievements - it measures your driving skill, challenges you to maintain it throughout, dares you to behave flamboyantly, and ties it all in to the reward system. Whether this means it wasn't broke so it hasn't been fixed is something we were in too much of a rush to get out of them. Has it changed much? We hope to find out, but everything's moving so fast now that it may be a while before we do.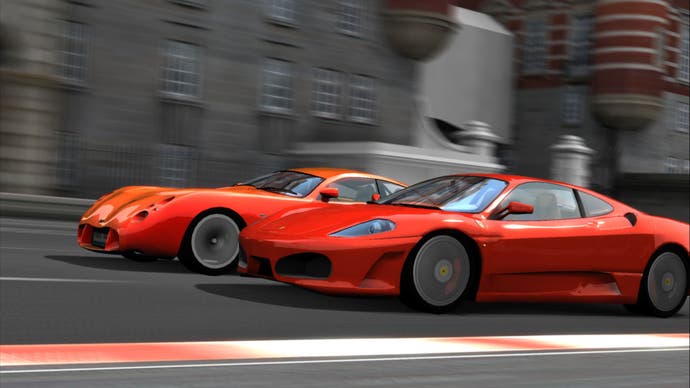 The good news is that PGR3 is a game that Bizarre wants you to spend a while with, and it certainly doesn't plan to just ship it and forget about it. Various downloadable content updates are planned. The sharing of photos over Live is "definitely" going in an update, and if it's possible Bizarre would like us to be able to use them as wallpaper for the Xbox 360 main interface someday ("the technology's in there to do it on our side"). What we won't see is patching. "I used to work on PC MMO games," says Wilson, "and with that you'd release the game then patch it on day one. It won't be fixes for bugs; it'll be new content. It's to find new ways to play the game." And that means new game modes, he says, as well as the possibility of Force Feedback support, and of course new cars.
What's particularly interesting, though, is that you won't have to wait for downloadable content in order to race around new tracks - thanks to the addition of Route Creator. Load this up and you're given a top-down overview of one of the game's cities. You pick a starting point, and then just connect the dots to form point-to-point or circuit races using areas of the game the team's already mapped. There are thousands upon thousands of possible permutations, and you can share them with your friends - playing them with any game modes you like. Want to race the entirety of London in one big snaky rush? Then you can. Want to race from Daitabashi to Shibuya in time for the Microsoft conf... er... BOLLOCKS! Must dash. So must PGR3. We'll be there to meet it on the finish line.
Project Gotham Racing 3 will hopefully be out alongside the Xbox 360 on December 2nd. If not, expect it sometime in January. We'll let you know whether it's the quick-and-dirty sequel some expect or the beacon of next-gen goodness others are claiming when our review code pitches up - probably sooner than you think.