Crime Life: Gang Wars
Or Grand Bodily Harm as we've affectionately dubbed it. Konami gets urban on our asses.
Shop for games now with Simply Games.
The second in Konami's double header of UK-developed titles (see yesterday's Regiment preview for details on the first) concerns the emine(m)nt marketing subject of urban gang wars. Crime Life is a "free roaming crime-based beat-'em-up with a great story" according to the self-titled G-Fella, the producer on the PS2, PC and Xbox title that's due for a September release.
Coming across as a modern day hip hop-infused 'sandbox' update to 16-bit classics like Renegade, Streets Of Rage and, latterly, Fighting Force, the emphasis is firmly on combo-based violence set to today's sound of the street. And when we say violence, read assault, armed robbery, vandalism, tagging, shoplifting, and, gulp, homicide. Friendly fisticuffs at dawn this isn't.
Grand Bodily Harm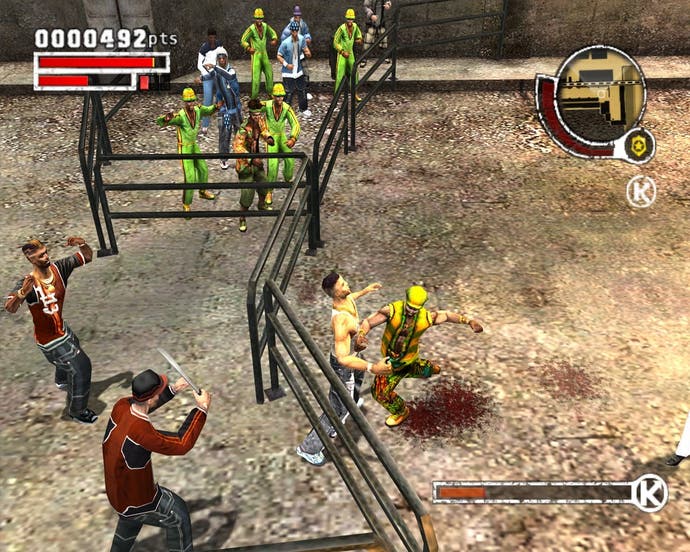 Taking its cue from its previous crime-based dabbling and the hugely popular GTA: San Andreas, veteran UK developer Hot House Creations (Gangsters 1 and 2) has, in Crime Life, created the latest in a long, snaking line of games to favour the freeform sandbox mission structure. And just like Rockstar's multi-million-seller it's based in downtrodden US neighbourhoods and tasks you to show the other gangs who's boss, and work your way up to becoming the pimp daddy. Or something.
Starring a bunch of larger than life characters who evidently skipped grammar classes at school, you take control of Tre, a young wannabe gangster who gets introduced to the Outlawz by his cousin Darryl at the start of the game. He tells you: "You wanna be down with the outlaws, you gotta show you're a solider," brother. From there you have to visit Smally the greying 'barber' who tips you off about the various missions you can choose from and from there you work your way up the crime ladder, gaining 'respec' on the mean streets of Grand Central City.
After taking a lecture from Smally about "not tearing up the hood", dissing any 'bitches', and focusing your criminal activities exclusively on rival gangs, you find yourself pushed into the limelight: "spotlight's on you homie, let's see whatcha got". Kicking off on a mission to track down Em Benz you must predictably fend off oncoming waves of his Head Hunter posse the best way you can. After being told "you're gonna be ghetto superheroes, I'm gonna call you Blackman and Robin," typically the exchange goes something like this: "Yo man, you got a problem?" followed by "Boof! Thwock! Oooof! Ngggh! Crrrack! Arrrgh! Dooof Dooof Dooof!" as knuckles repeatedly meet flesh, as knee meets testicles, as boot meets face. It's really not a pretty sight for the average Daily Mail reader, but it is a bit like your average English town centre on a Friday night at kicking out time, you could say. Or watching Newcastle United play football. Dish out those ASBOs!
Black and blue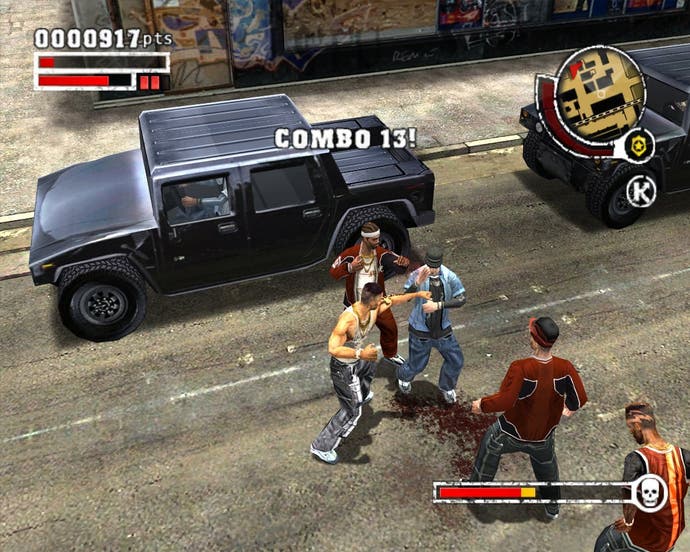 From the quickfire presentation the animation is looking slick and character models are detailed and convincing, albeit in an exaggerated cartoon fashion, but it's the feeling of weighty connection with every punch, kick, grab and throw that really impresses. The variety and fluidity of the combos available to the player also looks on a par with many full-on ring-based beat-'em-ups and really packs some power. It sounds like a terrible cliché to have to endure for the 400th time but press release boasts of "adrenaline-packed combo-based fighting and spectacular special moves" actually carry some weight by the look of it.
With much being said about the game's "strong cinematic story", Crime Life's setting changes dramatically throughout the course of the game, with 10 different environments to fight your way through over 25 story-based mission, including the 'hood, city centre, an industrial area, the plush Blingsley Hills (you read that right), the State Penitentiary, dockyard and a 'seamless' transition into various internal environments. In another nod to GTA, Crime Life also has its own 24 hour clock cycle, so expect some moody Californian sunsets to go with your pugilism.
Audio is certainly one of the main focuses in Crime Life, with celebrated Hip Hop stars D12 creating music specifically for the game - something of a major coup for Konami which assures the game plenty of attention in the build up to its release. Better still, members of D12 provide the voiceovers to the game, with rapper Swift playing Junior and Proof doing his bit to bring Dayz to life. Even movie star Jason Fleming (of Lock, Stock and Snatch fame) plays Mal, a Gypsy gunrunner, so it's evidently a game not short of ambition and high profile talent.
Gang bang
Whether it lives up to its potential remains to be seen, but in the absence of a hands-on the jury's still out on what could yet become the most ambitious free roaming fighting game we've ever seen. Expect more on Crime Life: Gang Wars in the near future. Bitch.