Out This Week - Rayman! LOTR! Kirby! Layton!
Eurogamer's guide to this week's releases, from Angry Birds to Zumba 2.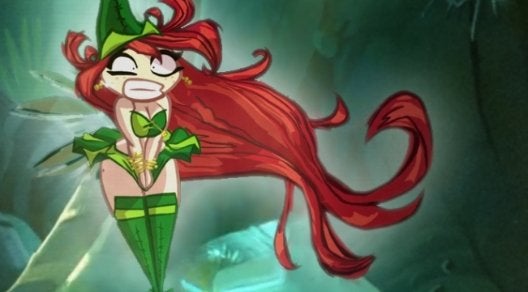 Five weeks until Christmas, and the majority of the season's release schedule has now been emptied upon us.
The Skyrims, Zeldas and Modern Warfares have been carefully shepherded from the workshops of video game developers into the safe pens of your local game shop or Jersey-based Amazon.co.uk warehouse. And the less fortunate have been thrown lemming-like into the bargain bins at Asda.
But there are still a few stragglers left to round up, even after this week, with Mario Kart 7 set to debut on 2nd December and 22nd December seeing hotly anticipated MMO The Old Republic arrive, a true Star Wars holiday special.
The highlights this week include Rayman Origins, a lovingly crafted cel-shaded romp from the mind of Michel Ancel. It's a return to form for Ubisoft's limbless platforming hero, with none of the studio's scene-stealing Rabbids anywhere in sight. Still not convinced? Ubi has said buying it may even help the plight of Beyond Good & Evil 2.
Lord of the Rings: War in the North, meanwhile, is Snowblind's dark and bloodied take on Tolkien's Middle Earth. Devoid of the green, pastoral lands of the Shire, Hobbitses and potato soup, the action is instead relocated to areas not seen in the films, although Gandalf, Frodo and co. apparently make appearances. You can even play co-operatively and form a mighty Dwarf, Elf and Human trio to stomp around and smash orcs skulls in.
Then there's Professor Layton and the Spectre's Call, another puzzler in the popular handheld series and the last for the ageing DS. Spectre's Call (named Last Specter outside Europe) is not the full package however - it's missing the 100-hour Professor Layton's London Life RPG by Mother creators Brownie Brown, playable in the game's Japanese, US and Australian versions - Nintendo cut it here to get the game out by Christmas. Don't need it on your doorstep this Friday? It's worth remembering that Last Specter, like all DS games, is region-free and well worth importing instead.
For fighting fans, 2D SNK brawler King of Fighters 13 punches onto PS3 and Xbox 360, while WWE '12 (the latest Smackdown vs. Raw) arrives for PS3, Wii and Xbox 360.
Elsewhere, Nintendo's new handheld gets plenty of loving. After Super Mario 3D Land last week, this Friday sees the re-release of PS2 classic Tales of the Abyss, with literally eye-popping 3D graphics, touch controls and some lovely looking anime cut-scenes. This year's F1 2011 and last year's caricatured WWE-All Stars also get 3DS versions, while Sonic Generations speeds onto 3DS and PC.
PC gamers can finally play Batman: Arkham City, or needlessly pay £10 for a no-frills boxed port of Angry Birds. Hello Asda bargain bins.
Lastly, to the Wii, where goodness-knows-how-many-years-in-the-making Kirby's Adventure Wii launches (again changed by Nintendo of Europe from its worldwide name, Return to Dreamland). It's a return to the series' traditional enemy-swallowing roots after last year's enjoyable distraction Epic Yarn. Iterations of the game have been around since the GameCube. And last of all, Zumba Fitness 2 - to be seen in every chart top ten for the next year.
This Week in Shops!
The Lord of the Rings: War in the North
Developer: Snowblind Studios
Publisher: Warner Bros.
Format: PC, PS3, Xbox 360
What is it? Bloody co-operative role-player set in Tolkien's Middle Earth for up to three players. What does Eurogamer think? Eurogamer will publish its verdict soon.
Rayman Origins
Developer: Ubisoft Montpellier
Publisher: Ubisoft
Format: PS3, Wii, Xbox 360
What is it? Beautiful and plucky platformer from Ubisoft mastermind Michel Ancel. What does Eurogamer think? 8/10, said Simon Parkin in our Rayman Origins review: "Ubisoft Montpellier has indisputably crafted a delightful, playful, occasionally exhilarating platformer. But while this is a game whose visuals point to a bright, alternative future, its systems too often rely on the dusty past."
Professor Layton and the Spectre's Call
Developer: Level 5
Publisher: Nintendo
Format: DS
What is it? The fourth Layton puzzle adventure for DS. What does Eurogamer think? John Teti doled out an 8/10 to the US version, which contains the 100 hour extra game us Europeans are denied. For more details, read his Professor Layton and the Last Specter Review.
What else?
Angry Birds (PC)
Batman: Arkham City (PC)
F1 2011 (3DS)
James Noir's Hollywood Crimes (3DS)
King of Fighters 13 (PS3, Xbox 360)
Kirby's Adventure Wii (Wii)
Metroid 2: Return of Samus (3DS Virtual Console)
Serious Sam 3: BFE (PC)
Sonic Generations (3DS, PC)
Tales of the Abyss (3DS)
WWE '12 (PS3, Wii, Xbox 360)
WWE All-Stars (3DS)
Zumba Fitness 2 (Wii)
Chart Predictions!
Each week one of the Eurogamer's finest attempts to foresee the future - or rather, what next week's top five games will be in the UK all-formats chart. The following predictions are for the week beginning Friday 18th November, to be reported next Monday.
Tom Phillips, Eurogamer web admin, Eurogamer.net
"While Lord of the Rings: War in the North ties-in to a big budget franchise, is the public ready for another? Personally I'd rather wait a year or so and play the inevitable Hobbit tie-in so I can smite the Benedict Cumberbatch-voiced Smaug back to Baker Street where he belongs. Modern Warfare 3 will be top, because it's Modern Warfare 3. Assassin's should still keep selling, as will Skyrim. Rayman in fourth is perhaps optimistic, but it's pretty and multi-platform and will make a good stocking filler."
Modern Warfare 3
Assassin's Creed: Revelations
Elder Scrolls 5: Skyrim
Rayman Origins
FIFA 12
Last week, Eurogamer's US News Editor Fred Dutton gave us his predictions. How did he do?
| Position | The Truth | The Prediction | Result |
| --- | --- | --- | --- |
| 1 | Modern Warfare 3 | Modern Warfare 3 | YES! |
| 2 | Assassin's Creed: Revelations | Assassin's Creed: Revelations | YES! |
| 3 | Elder Scrolls 5: Skyrim | The Legend of Zelda: Skyward Sword | NO! |
| 4 | Saints Row: The Third | Need for Speed: The Run | NO! |
| 5 | FIFA 12 | Halo: Combat Evolved - Anniversary | NO! |