Nine Inch Nails' new music video features Polybius
Something I can never have.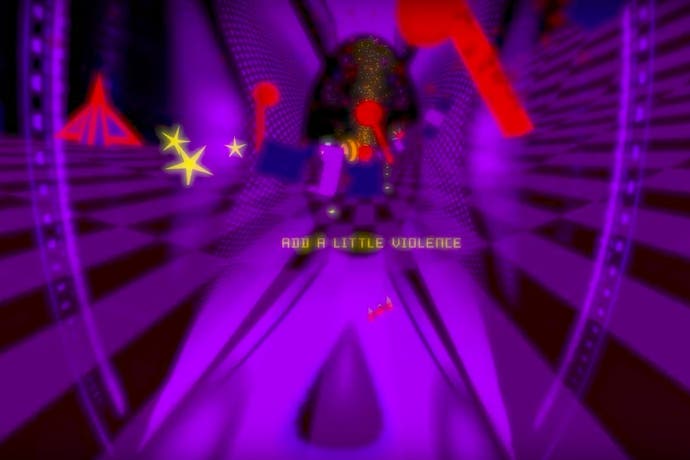 Since 1989's Pretty Hate Machine Nine Inch Nails' frontman Trent Reznor has pined for something he can never have. And now we know what that something is: the mythical early 1980s arcade game, Polybius.
In case you're not familiar with the legend of Polybius, word on the street was that it was a one-of-a-kind arcade cabinet, oft said to have circulated parts of Portland in the early 80s, that caused all sorts of strange effects on those who played it. Some say it caused seizures. Others say it hypnotised you. Some claim it was part of a government program to find the best candidates for a top secret mission. Given that the earliest documented mentions of it didn't surface until after the dawn of the internet in 1998, it's most likely all a hoax - albeit one loosely based on a series of actual suspicious scenarios happening at the time.
Acclaimed arcade developer Jeff Minter, the brains behind Space Giraffe and TxK at his studio Llamasoft, recently released his own take on Polybius for PS4 and PSVR. Our Chris Donlan really dug it.
He's not the only one who was enraptured by its glittery neon chasms, as Nine Inch Nails' founder Trent Reznor decided to use Llamasoft's re-imagining (or just imagining) of Polybius for the band's latest music video, Less Than.
Part of Nine Inch Nails' upcoming EP Add Violence, due 21st July, Less Than pairs well with Minter's hypnotic imagery - though this is aided by a host of post-production effects.
Reznor is no stranger to the gamespace, as he's previously composed music for such titles as Quake and Call of Duty: Black Ops 2. The latter was when Reznor was in especially high demand after snagging the Oscar for Best Original Score for his work on David Fincher's The Social Network.