Jeff Minter's psychedelic shooter Polybius is heading to PC before the end of the year
With Oculus Rift support.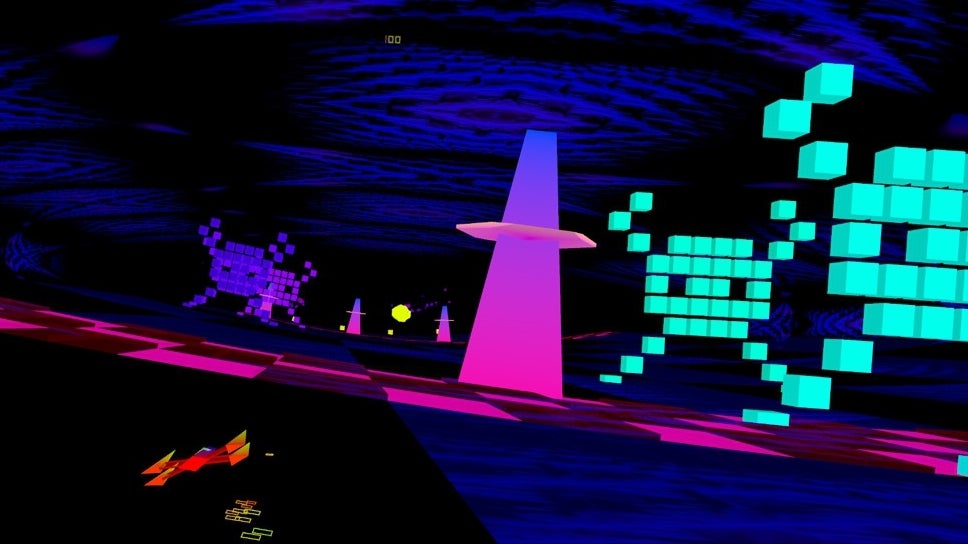 Jeff Minter's wonderful, psychedelic (and previously PS4-exclusive) shooter Polybius will be making its way to PC soon, according to a new listing on Steam.
Polybius, which launched on PS4 last summer, is loosely inspired by the mysterious, government-created arcade game of urban legend, claimed to have appeared around Oregon in the early 80s. Polybius' powerful psychoactive effects were said to induce amnesia, insomnia, night terrors, and more in those that dared play it.
Although Minter's Polybius probably doesn't have quite the same sinister qualities as its fictitious namesake, it's hard not to suspect that its dazzling display of psychedelia and pure arcade fury might have at least some hypnotic power over your rapt brain. Especially in VR.
As Eurogamer's Christian Donlan put it when he reviewed Polybius last year, "Minter may take a template that seems pretty simple - shoot everything coming at you while moving right and left as necessary - but he's one of the best level designers in the business, able to introduce a single gimmick - a gate that lofts you into the air, a gate that you must pass either on the left or the right to avoid punishment - and then building five minutes of breathless fun around it."
"You're always headed into the horizon," said Donlan, "but moment-to-moment the design you're facing is as restless as the colours on the sky and on the ground rushing by beneath you."
According to Polybius' newly arrived Steam listing, the game will be playable on both normal screens and in VR when it arrives on Steam. However, Oculus Rift appears to be the only supported headset right now, and it's unclear if Vive functionality will be added for launch. There's no specific release date for Polybius on PC just yet, but it's due in "Q4 2018".