Nintendo announces Donkey Konga Cube bundle
Not got a Cube? Bongo-drumming rhythm-action enough to convert you? Then step right this way and mind the banana.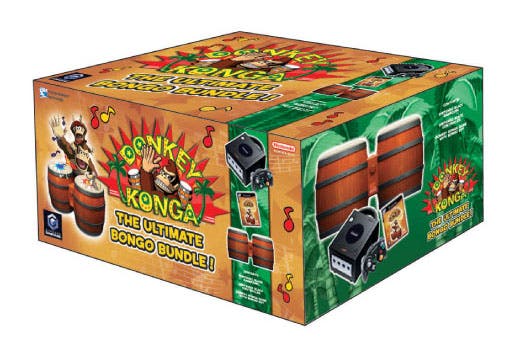 Nintendo may not have officially cut the price of the GameCube to compete with Sony and Microsoft's recent exertions, but during the EGN trade show thimgum this week the platform holder did announce a very reasonably priced bundle featuring forthcoming drum-banging Cube game Donkey Konga.
The "Donkey Konga Ultimate Bongo Bundle Pak" (pictured) will be released on the 15th October and priced at £89.99 - or whatever's the Euro-ish equivalent - and features a black Cube, controller, a copy of Donkey Konga and one of the bongo drum controllers that are so entertaining the kids (and, let's be honest, the grown-ups too) at Game Stars Live this week.
Additional bongo sets will be made available for £19.99 and the game itself will, naturally, retail at around the £30-40 mark when it too "hits retail" in mid-October. We'll be sure to let you know whether it tickles our bananas when we get a little closer to launch.