That was quick: people selling New 3DS Ambassador Edition for up to £400 on eBay
UDPATE: More than a dozen now sold, 40 more listed.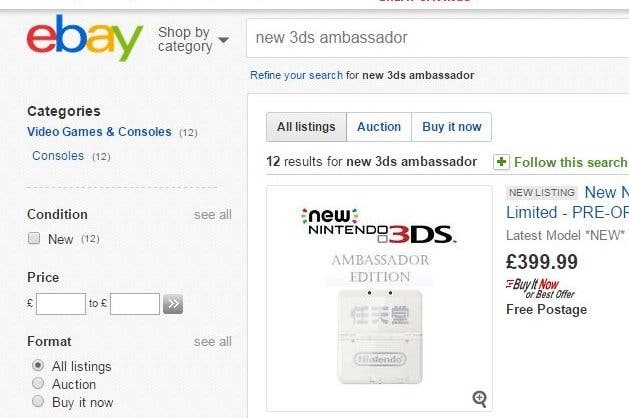 UPDATE 7/1/15 10.45am: More than a dozen New 3DS Ambassador Editions have been sold via eBay in 24 hours, with prices for each ranging between £260 and £285.
39 more are currently listed for sale at the time of writing, with "Buy It Now" prices between £300 and £780.
New 3DS Ambassador Edition owners who selected next-day delivery from Nintendo have already begun receiving their machines - congratulations to all lucky recipients (we're not jealous, honest).
ORIGINAL STORY 6/1/15 2.45pm: A number of Nintendo's New 3DS Ambassador Edition handhelds have already been placed on the UK version of eBay, just hours after the limited edition was announced for sale.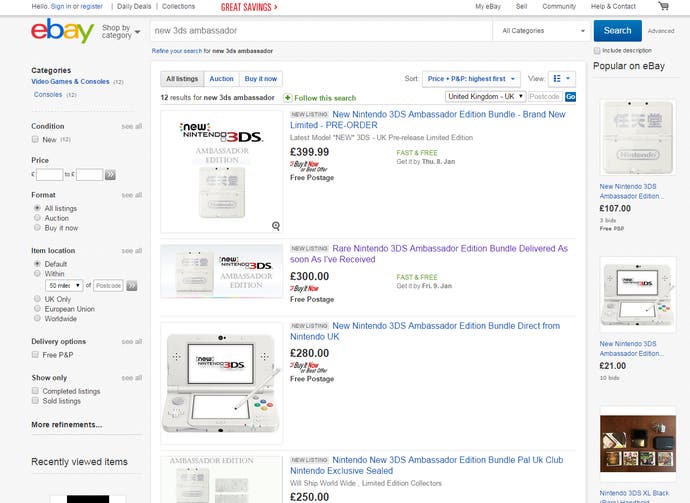 "Buy It Now" prices currently range from £250 up to £399.99.
The Ambassador Edition is being sold as part of a £179.99 bundle to a select number of Club Nintendo members ahead of the New 3DS' main public release in Europe later this year.
The company emailed a limited number of fans this morning with the offer, and later told Eurogamer that it would not be commenting on its selection process.
Inevitably, some fans have bought the Ambassador Edition to immediately resell the device and earn a profit.
"Hi I have already placed this order and gone for express delivery so as soon as I've received this I will be sending it on to the winning buyer," wrote one seller, who is currently asking for £300.
"I live next door to the post office so super quick, will keep in contact as to when I receive and when I send the 3DS."
Nintendo's website states that the handheld will be shipped out to customers in the next 3-5 days, meaning that resellers will be able to pass on their purchases in the next week or so.
"I am selling the new 3DS Ambassador edition bundle, which I should receive in the next week from Nintendo," explained another seller asking for £300. "The new 3DS is not currently available in the UK yet, but I received an exclusive offer from Nintendo."
Another seller claimed that they were happy to pass on their Ambassador Edition as they had just received a 3DS XL for Christmas.
"Hello lucky people," the seller wrote. "Here I am offering one lucky buyer what was my opportunity to purchase the new Nintendo 3DS consoles before its official European launch this summer."
Nintendo has yet to comment on the reselling - although there seems little it can do about it.