Naughty Bear Panic in Paradise dated next month
Followed by 12 DLC releases over three months.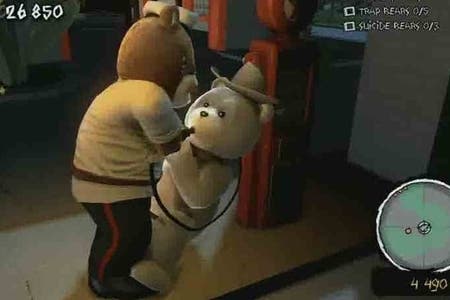 Naughty Bear Panic in Paradise - the sequel to 2010's crude action-adventure Naughty Bear - is dated for release on 10th October for XBLA and PSN, publisher 505 Games has announced.
Where the first Naughty Bear was woefully overpriced as a fully-fledged retail offering, Behaviour Interactive's sequel will only cost 1200 Microsoft Points on Xbox 360 or £11.99 / €14.99 on PS3.
The sequel sees the homicidal teddy bear carrying out a series of assassinations across 11 new locations. It will feature a spruced up combat system with "special attacks and ultra-kills galore."
Additionally, a whopping 12 DLC updates are expected within the first three months following its launch granting new weapons, executions, and costumes emulating iconic horror movie characters like Jason Voorhees and Leatherface.
The first Naughty Bear was a bit of a train-wreck with our Dan Pearson condemning it to a lowly 4/10, but we all deserve a second chance and the premise is entertaining enough that we'd love to see it come together.
Guess we'll find out if it warms its way into our hearts in a couple weeks, but until then check out a newly released trailer of Naughty Bear being naughty.