My Nintendo loyalty program live in Europe, rewards revealed
North American goodies detailed too.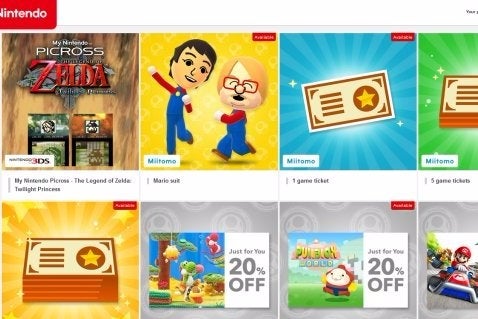 Nintendo's new loyalty program My Nintendo has launched in Europe and North America today to coincide with the western release of its first mobile app Miitomo.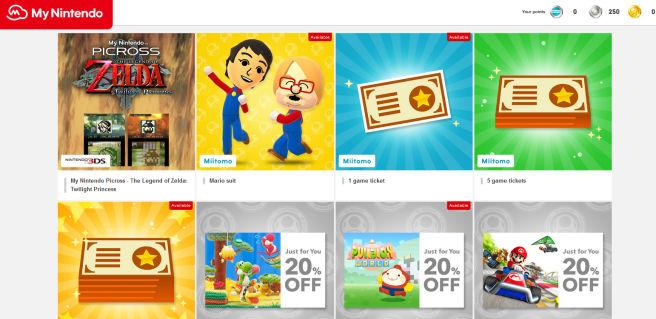 Players earn points by completing missions - such as purchasing games, linking your My Nintendo account to your Nintendo ID Network, or linking Miitomo to a Nintendo Account. You can see the full mission list here.
From there, members can choose a wide selection of rewards.
So, without further ado, here are the rewards for Europe (via Nintendo Everything):
My Nintendo Picross: The Legend of Zelda: Twilight Princess - 1000 Platinum Points
Miitomo - Mario Suit - 250 Platinum Points
Miitomo - 1 game ticket - 85 Platinum Points
Miitomo - 5 game tickets - 420 Platinum Points
Miitomo - 10 game tickets - 250 Platinum Points (one time only)
20 per cent discount on Yoshi's Woolly World - 600 Platinum Points
20 per cent discount on Pullblox World - 150 Platinum Points
20 per cent discount on Mario Kart 7 - 700 Platinum Points
20 per cent discount on The Legend of Zelda: A Link Between Worlds - 300 Platinum Points
40 per cent discount on Splatoon - 100 Gold Points
40 per cent discount on The Wonderful 101 - 120 Gold Points
50 per cent discount on Metroid: Other M - 60 Gold Points
40 per cent discount on Super Mario 3D Land - 110 Gold Points
40 per cent discount on Tomodachi Life - 100 Gold Points
50 per cent discount on Mario and Donkey Kong: Minis on the Move - 30 Gold Points
Super Mario 64 (Wii U) - 90 Gold Points
New Super Mario Bros. U Add-On Content: New Super Luigi U - 90 Gold Points
Pikmin 3 Add-On Content: Battle Enemies! Stages 7-10 - 20 Gold Points
WarioWare: Touched! (3DS) - 1000 Platinum Points
Super Mario Land 2: 6 Golden Coins (3DS) - 35 Gold Points
Metroid Fusion (Wii U) - 60 Gold Points
Super Punch-Out!! (Wii U) - 70 Gold Points
My Nintendo Theme 1: Mario - 200 Platinum Points
My Nintendo Theme 2: Donkey Kong - 200 Platinum Points
And here's the slightly different rewards for North America:
My Nintendo Picross: The Legend of Zelda: Twilight Princess - 1000 Platinum Points
Miitomo - Mario Suit - 250 Platinum Points
Miitomo - 1 game ticket - 85 Platinum Points
Miitomo - 5 game tickets - 420 Platinum Points
Miitomo - 10 game tickets - 250 Platinum Points (one time only)
15 per cent discount on Zelda: Wind Waker HD - 750 Platinum Points
15 per cent discount on Yoshi's Woolly World - 750 Platinum Points
15 per cent discount on Zelda: A Link Between Worlds - 600 Platinum Points
15 per cent discount on Animal Crossing: New Leaf - 450 Platinum Points
15 per cent discount on Super Mario 3D Land - 450 Platinum Points
30 per cent discount on Splatoon - 140 Gold Points
30 per cent discount on Captain Toad: Treasure Tracker - 100 Gold Points
30 per cent discount on Zelda: Majora's Mask 3D - 100 Gold Points
30 per cent discount on Ultimate NES Remix - 70 Gold Points
30 per cent discount on Punch-Out!! - 50 Gold Points
Super Mario 64 (Wii U) - 90 Gold Points
New Super Mario Bros. U DLC: New Super Luigi U - 170 Gold Points
Pikmin 3 Mission Mode DLC: Battle Enemies! Stages 7-10 - 20 Gold Points
WarioWare: Touched! (3DS) - 1000 Platinum Points
Super Mario Land 2: 6 Golden Coins (3DS) - 35 Gold Points
Donkey Kong Country Returns - 230 Gold Points
Metroid Fusion (Wii U) - 60 Gold Points
Super Punch-Out!! (Wii U) - 70 Gold Points
My Nintendo Theme 1: Mario - 200 Platinum Points
My Nintendo Theme 2: Donkey Kong - 200 Platinum Points