MUD: FIM Motocross World Championship Review
No scrubs.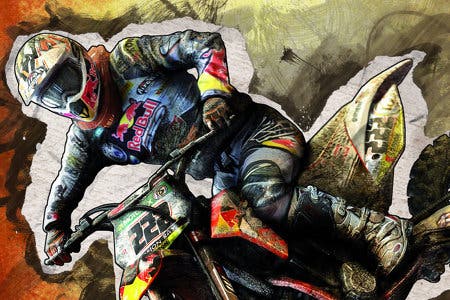 If you're an Italian studio with a penchant for racing game simulations that deal with perfect riding lines and the art of flicking a rally car through traction-oblivious hairpins, what's the next logical step? Maybe you could make an impassioned takeover pitch for the Formula One and MotoGP licenses, or perhaps set the bar to seemingly impossible heights by taking Polyphony Digital and Turn 10 Studios on at their own game? If that sounds like too much of a challenge, however, you could always take the safe option - combine the virtues of your two main games into a fun racer that's lacking in ambition.
That's exactly what Milestone has achieved with MUD: FIM Motocross World Championship. Taking the two-wheel focus of the SBK series and meshing it with the off-road thrills of the recent WRC 2, the end result is a motocross racer in which you can drink a can of Monster Energy mid-race to give yourself a speed boost. And while that may sound like something you'd see in a quirky karting game, MUD is somewhere between a pure arcade racer like Speed Kings and a middle-of-the-road job like TT Superbikes.
The flow of a race is much as you'd expect. Hold down the brake and then release it as the gates open and you'll perform a burning start in traditional Mario Kart fashion, then as you learn the optimal riding lines for the individual tracks, it's a case of power-sliding through the corners with one foot placed automatically on the ground. There's no differentiation between front and rear braking and the bikes are more stable than an eight-legged table - to the point where you have to land a jump particularly badly if you want to see an unsaddling.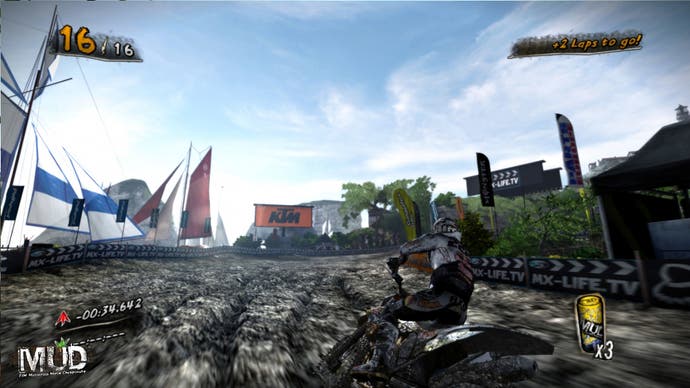 Thankfully, there is an element of risk/reward, as each time you hit the lip of a dirty dune and take to the skies you can perform a scrub by holding down the appropriate button. This is a real technique that motocross riders use to flatten the trajectory of a jump by manoeuvring the bike sideways through the air - meaning they can land sooner and maintain higher speeds. In MUD, the art of scrubbing is taken to a suitably extreme level: if you release the scrub button just before you land, a sudden surge of nitrous oxide will find its way into the engine and give you a boost.
Mistime the release and you'll take a tumble that'll rob you of valuable seconds before you respawn back on track, but if you hold out till the last possible moment, you'll gain considerable ground as the rear wheel powers forward like a turf-tearing missile. It's this subtle pairing of simple riding mechanics and a power-sliding boost with a vertical twist that makes MUD accessibly entertaining. There are no gear changes or weight distribution systems to think about and no tyre compounds or technical traction mechanics to be wary of - it's just you and three buttons labelled stop, start and scrub.
As far as the game modes go, Milestone has opted for a less streamlined approach. The all-business Official Mode is where you'll find an 84-strong roster of real-life riders spread across 32 teams - including five times world champion Antonio Cairoli and his current Red Bull Teka KTM racing team. The studio has also captured the divide between the light MX2 class and the more demanding MX1 monsters in a way that's convincingly weighted, although anyone hoping for the arm-wrenching pace of the MX3 crotch rockets may be disappointed by the muscle class's absence.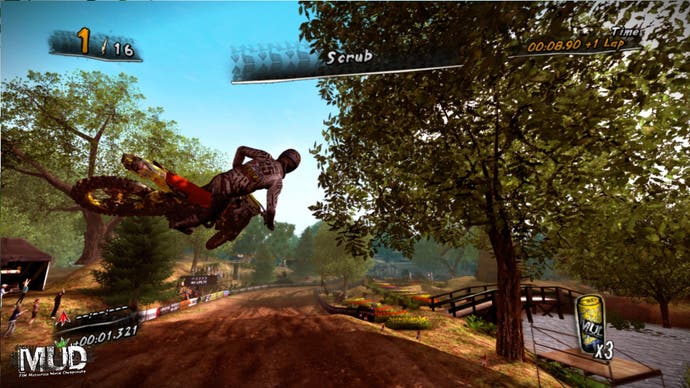 In its place stands the Motocross of Nations. This is a yearly race that pits several competing nations against each other on one track in a mixture of MX1, MX2 and Open classes. Last year the US won for the seventh consecutive time on the Saint Jean d'Angély circuit in France. In terms of recreating that sense of international rivalry, this mode adds a welcome alternative to the team showdowns; it's just a shame that the 12 available tracks - which range from Teutschenthal in Germany to the home-grown Matterley Basin near Winchester - are lacking in personality.
It may just be the fact that muddy circuits look similar regardless of their location - but with a demeanour that wouldn't look out of place on a skate punk adventure starring Tony Hawk, MUD wants to be the motorcycling equivalent of DiRT 3 but has to replace Chase and Status and Leftfield with relative unknowns like Divided By Friday and Automatic Static. This doesn't hurt the game from an audio standpoint - far from it - but in the visual department MUD suffers from an ongoing Milestone curse. It looks drab.
The hint of half-pipes and grazed knees also manifests itself in an ill-advised Trick Battle that forms a part of the World Tour mode. Here you can choose from four predefined hero characters with names like Zack "Old Man" Brooks and Lars "Shredder" Keller before pulling off motocross tricks like the Heelclicker and Holy Grab in a simple arena. But instead of holding down trick buttons or flicking the analogue stick in precise motions, you have to input a clumsy button sequence. This has the unfortunate effect of turning the trick scoring into a test of memory rather than skill.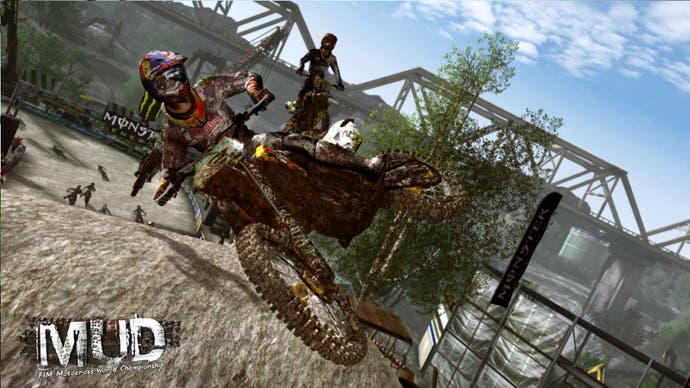 To its credit, the rest of the World Tour mode is much more compelling. You start out with a few events that include straight-up races, elimination gauntlets and head-to-head showdowns where you battle against a tricky AI opponent. Then as you unlock new events that get progressively more challenging, you can spend your winnings on new tricks, better teams, snazzier riding gear and improving your hero's skills in a number of key areas. What you can't do, though, is take your tailored character online.
The Xbox Live raceway, with its basic quick and custom match options, is the playground of the real-world riders. Online stability is on a par with the fairly robust WRC 2 and should help ensure the longevity of any competitive scene that MUD might garner. We don't expect a huge following, but there's arguably enough here to keep casual racers and motocross fans contented for the immediate future.
MUD is a competently constructed racing game that offers an accessible riding model with a few wobbly tricks. It lacks the ambition and style of some of its four-wheeled contemporaries, and you could argue that this license would have been better served by a semi-simulation like Milestone's own SBK. But by focusing on what makes motocross fun to watch rather than ride, it replicates the excitement of jumping from lip to lip astride a two-stroke tearaway... just about.