Minecraft-like interplanetary MMO Boundless gets a September release date
Coming to PC and PS4.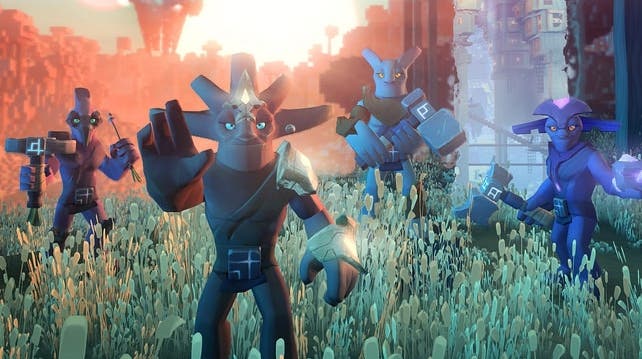 Developer Wonderstruck has announced that its interplanetary sandbox MMO Boundless will be heading to PlayStation 4 and PC on September 11th.
Boundless, which is being published by Square Enix, has been in Steam early access since 2014 (where it was initially called Oort Online), and looks to play out something like an intergalactic, massively multiplayer Minecraft.
Boundless' universe is procedurally generated and explorers can hop between planets simply by building portals. It's pitched as a largely open-ended experience, so once you've found a planet you like, you can pretty much set your own objectives. As Wonderstruck puts it, there are "settlements to be built, trades to be made, and creatures to hunt [...] You can be a mighty warrior, a wealthy merchant, or maybe an expert builder."
Whatever project players settle on, Boundless can be played solo or collaboratively - with a small group of friends or even an entire community. And if the more sedate pleasures of building and trading aren't getting the blood pumping, "meteorite hunts" offer the chance for organised groups to battle waves of dangerous enemies. "These will scale up and multiply according to the number of players in the area," explains Wonderstruck, "and the ensuing battles provide plenty of spoils - they're not for the faint of heart."
Wonderstruck says that Boundless' September launch on PC and PS4 is "just the beginning", and the likes of new creatures, weapons, and materials are expected in future updates.