Minecraft Earth brings life-sized mob statues to London this weekend
And you can earn yourself a Jolly Llama by visiting them.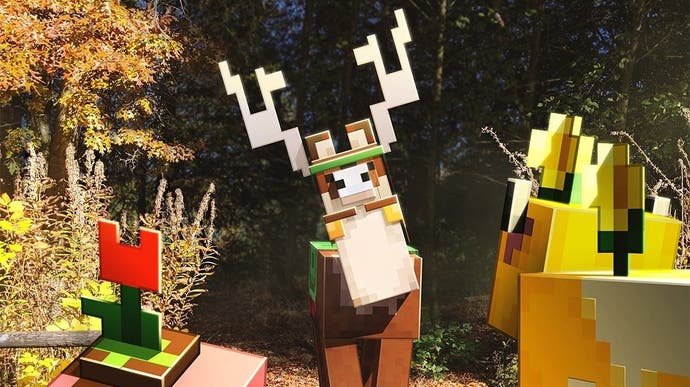 Minecraft Earth hit early access in the UK this week, and to celebrate it will set up life-sized statues of some of its new mobs in London, Sydney and New York.
Starting from Saturday 16th November (and continuing every weekend until 1st December), you'll be able to meet the Muddy Pig, the Moobloom, and the brand new Jolly Llama in person.
Time to let the cat (llama?) out of the bag! On Nov 16th, we're setting up Minecraft Earth pop-up statues in New York City, London, and Sydney. These mobs will offer players an in-game adventure with an exclusive reward: the Jolly Llama!

↣ https://t.co/gysa1WXVGO ↢ pic.twitter.com/bSXk6mjml7

— Minecraft Earth (@minecraftearth) November 12, 2019
(The Jolly Llama appears to be a regular llama with antlers strapped to its head, and bells around its neck.)
The statues aren't just for show however, as each one will have a QR code allowing you to take part in an exclusive adventure which unlocks the Jolly Llama in-game, before its global release in December (and the statues will be supervised, so no, you cannot take home the life-sized Llama).
In London you can find the pop-ups at The Queen's Walk in Southbank (near Hungerford Bridge), in New York they're by the shops and restaurants at Hudson Yards (near the Vessel), and in Sydney they'll be in Campbell's Cove, 35 Circular Quay W. The pop-ups will be live between 10am and 7pm local time in each city.