Microsoft exec's Xbox One Rare game tease sets tongues wagging
Killer Instinct? Perfect Dark?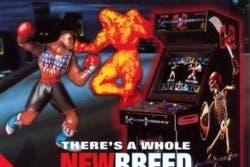 A Microsoft executive has suggested Rare is making an Xbox One game based on its "historic IP".
Microsoft Studios boss Phil Spencer told Polygon at the Xbox One reveal event that a Rare-developed franchise may be announced at E3 in June.
"Fans of Rare and Rare IP I think will be pleased with what we're going to show at E3," he said.
"We had a limited amount of time today and a lot of story to tell. But Rare remains an incredibly important part of our development capability.
"That historic IP that they've built I think can play a real important role on Xbox One."
Spencer's comments have set tongues wagging on Rare's inevitable Xbox One game. Could it be a new Killer Instinct? Late last year Microsoft took the unusual step of announcing it had renewed the Killer Instinct trademark.
Or could it be a new Perfect Dark game? Kameo? Viva Pinata? Banjo? Conker? Or maybe... Kinect Sports?
Last night Microsoft announced 15 Xbox One exclusives were in development - eight of which were brand new IP. We already know about Forza 5 from Turn 10 and Quantum Break from Remedy. More at E3.