Mercenary Kings dev reveals upcoming minimalist brawler Curses 'N Chaos
Coming to Vita this autumn.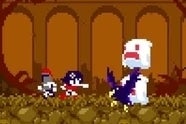 Mercenary Kings and Scott Pilgrim vs. The World developer Tribute Games has revealed its next game, a minimalist 2D brawler called Curses 'N Chaos.
Previously announced as a Vita title, Curses 'N Chaos tasks players with surviving waves of monsters and collecting coins in single-screen arenas. Based on its reveal trailer below, it looks simple enough, but there appears to be a lot of variety in the types of enemies you face and weapons you use.
Curses 'N Chaos is due this autumn on Vita.