Mass Effect 3 Kingdoms of Amalur cross-promotion
EA RPGs raid each other's dressing up box.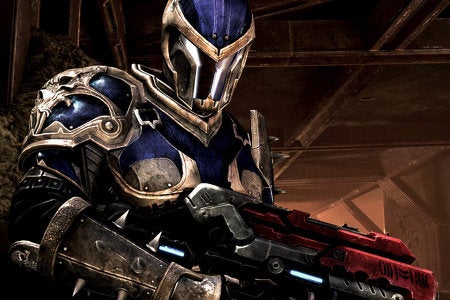 Playing the upcoming demos of Mass Effect 3 and Kingdoms of Amalur: Reckoning will unlock player skins and weaponry themed upon each other's games, publisher EA has revealed.
Sword and shield RPG Kingdoms of Amalur features the Shepard-themed N7 Armour and glowing Omniblade Daggers. The first item is unlocked once you boot up Mass Effect 3's demo, with the latter coming after beating the trial.
Meanwhile, futuristic space RPG Mass Effect 3 will boast the Reckoner Knight Armour, a medieval-themed suit of armour complete with spiky gauntlets. Then there's the Chakram Launcher, earned after beating Amalur's demo and watching a trailer for the game. Both items are designed by Spawn creator Todd McFarlane.
Kingdoms of Amalur: Reckoning's demo goes live next week, on 17th January. A date for the Mass Effect 3 demo has yet to be announced.
It's not the first time EA has linked two titles its published in this way. Last spring saw BioWare's Dragon Age 2 featuring armour from Visceral's Dead Space 2, unlocked with a code included in the latter's packaging.