Luchador-themed Metroidvania, Guacamelee, is currently free for PC on the Humble Store
Singlet's praises.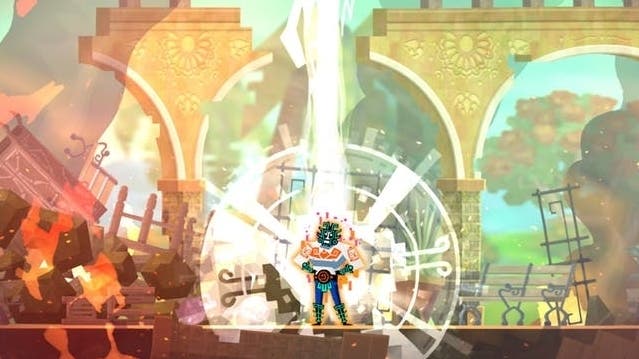 I realise your freebie pouch might be getting pretty crowded after the Witcher and Steep, but if you can make a bit more room, Humble Store has a freebie proposition of its own - this time in the form of Guacamelee, DrinkBox Studios' marvellous luchador-themed Metroidvania, for PC.
Guacamelee (I'm omitting its exclamation mark for ease of reading, but do feel free to imagine it's still there) initially made an impact on PlayStation 3 and Vita in 2013. DrinkBox later brought the game to other platforms in the guise of Guacamelee's Super Turbo Championship Edition, complete with new levels, new bosses, and all previous DLC - and this is the version that's currently up for grabs on the Humble Store.
If you fancy swiping it for your collection while it still costs zero pee, you've got until 6pm on Sunday, 19th May. All Humble asks is that you sign up to its newsletter - and the offer is open to those already subscribed too. With that taken care of, just hit the button on the offer page, and make sure you redeem your free copy of Guacamelee before the deal ends.
Guacamelee, if you're unfamiliar, casts players as humble-agave-farmer-turned-supernatural-luchador Juan Aguacate, and sets them off (after an unscheduled stop in the Land of the Dead) on a quest to save Juan's beloved from a sinister, but snappily dressed, skeleton. It's that kind of game. The whole thing plays out across a non-linear, and visually arresting, world, with Juan able to use his ever-expanding arsenal of wresting-inspired moves to bop the undead and reach previously inaccessible corners of the map.
"DrinkBox Studios has already made a name for itself on PSN with colourful platformers like Mutant Blobs Attack," said Eurogamer's Christian Donlan back in the day, "Guacamelee suggests a real step-up in terms of ambition, and that's a welcome move - even if it does perhaps come at the cost of a little polish. Like the best luchadores in the business, Guacamelee has real heart and a blazing desire to put on a good show."