Long-in-the-works perspective-shifting puzzle game Superliminal out next week on PC
Sleeper hit.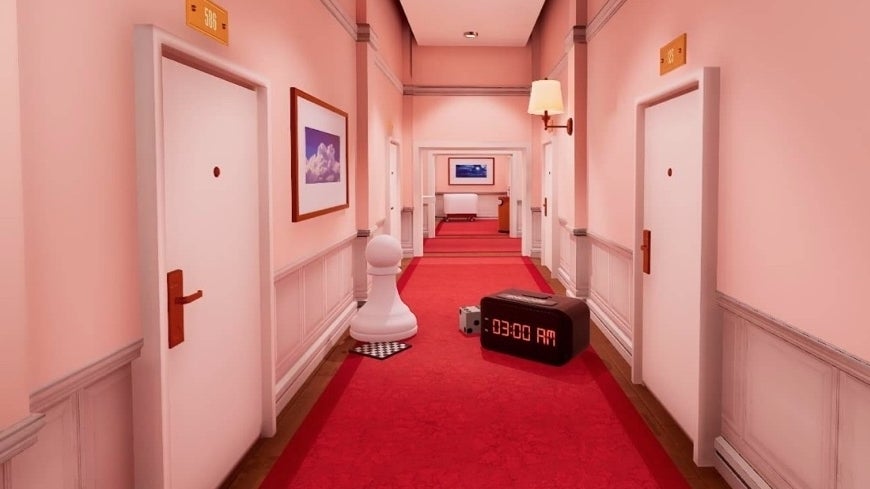 Developer Pillow Castle Games' long-in-the-works perspective-based puzzler, Superliminal, has finally wiggled a bit to the left and brought a release date into focus. It'll be heading to PC next Tuesday, 12th November.
Superliminal first surfaced in 2013, when Pillow Castle fired a deeply impressive tech demo into the wild. Back then, it didn't have a proper name (simply referred to as "Museum of Simulation Technology" on its start screen), and it didn't have much of an art-style either.
What it did have, though, was one hell of a hook, in which players were able to manipulate items that would adapt in size and distance according to their first-person perspective. A normal-sized picture might balloon into an enormous platform, for instance, while the leaning tower of Pisa might shrink down to the size of a chess piece.
Now, almost six years later, Pillow Castle's single-player game is back under the name Superliminal, and with a considerable dose of polish - which has given it a somewhat cuddlier look, and a comedic tone vaguely reminiscent of Portal and the Stanley Parable. All of which you can see in the deliciously confounding launch trailer above.
"As you fall asleep with the TV on at 3AM, you remember catching a glimpse of the commercial from Dr.Pierce's Somnasculpt dream therapy program," explains the developer in the spirit of scene-setting, "By the time you open your eyes, you're already dreaming - beginning the first stages of this experimental program....Players need to change their perspective and think outside the box to wake up from the dream."
Pillow Castle has opted to restrict sales of Superliminal to the Epic Store at launch, where the game will initially cost £13.99/$16.99 USD. That includes a 15% discount, available until 18th November. According to the developer, PS4 and Switch versions are "the next thing we're tackling", so hopefully there'll be additional word on those soon.