LEGO Incredibles cheat codes, Pixar character locations lists
How to unlock new characters in LEGO Incredibles.
LEGO Incredibles cheats allow you to unlock a few things without the effort of playing the game - and since LEGO games are massive timesinks, this is no bad thing.
Usually, these codes unlock a range of characters and cheats, but LEGO Incredibles codes are a little different, or more accurately, scant - with just two codes in the game to enter.
There are, of course, many other things to unlock - including characters from other Pixar films - but you'll have to put some time and effort into it first.
If you're a fan of LEGO games in general, then we have other cheats pages, including LEGO Star Wars Force Awakens cheat codes, LEGO Harry Potter cheat codes, LEGO Marvel Super Heroes cheat codes and LEGO Incredibles cheat codes pages.
Where to enter LEGO Incredibles cheat codes
To enter the below codes, pause the game at any time - even during the start of the first level - and select Extras then Enter Code from the pause menu.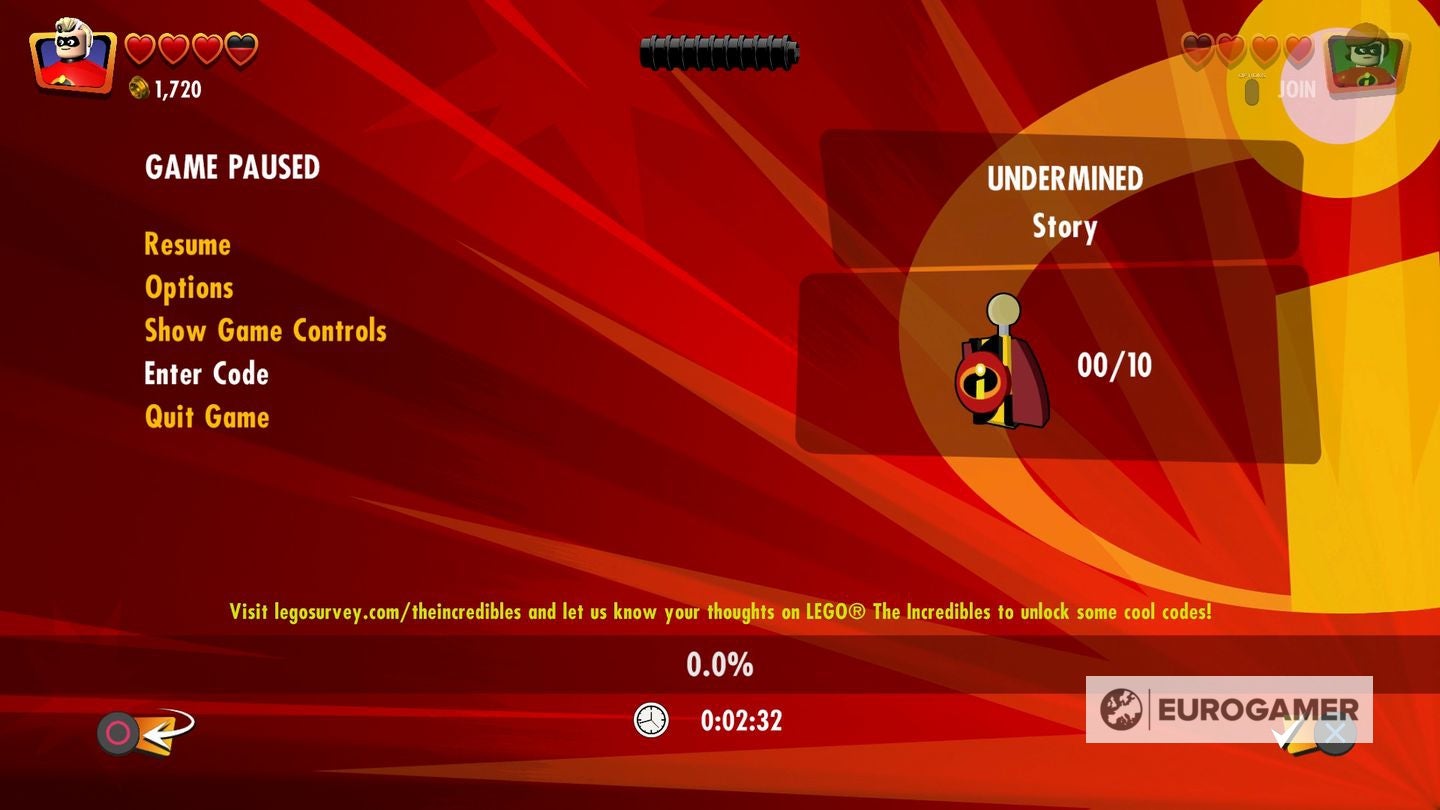 From there, you can enter the codes listed below. If successful, you'll see a notification, like so: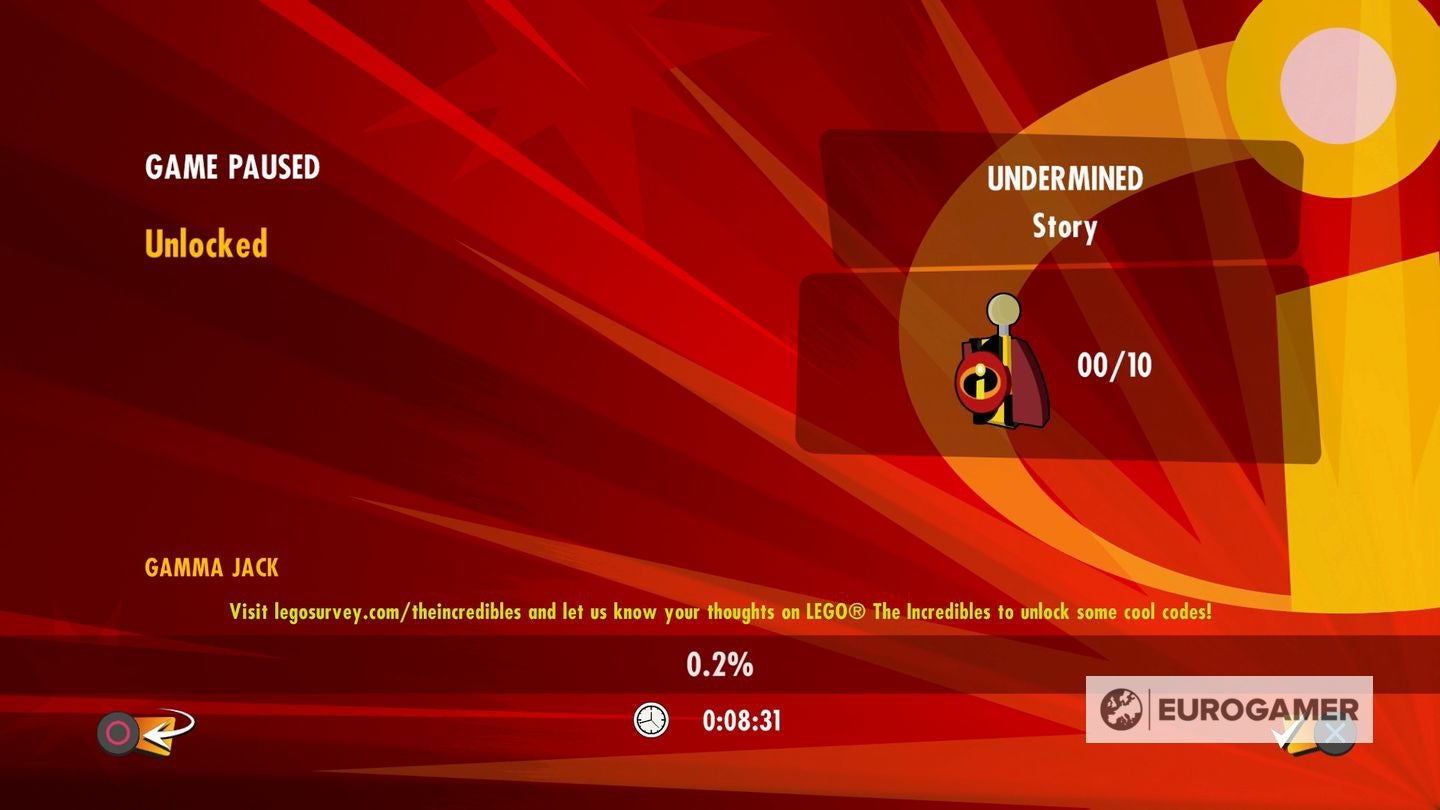 LEGO Incredibles cheat codes list
As with LEGO Star Wars Force Awakens cheat codes, the codes available in LEGO Incredibles only unlock additional characters - just two in total - but don't give you bonus bricks or comical powers. Those have to be unlocked in-game, as discussed in the subsequent section below.
| Cheat | Code |
| --- | --- |
| Edna Mode (Juniors) | BRAB1R |
| Gamma Jack | G1MRH7 |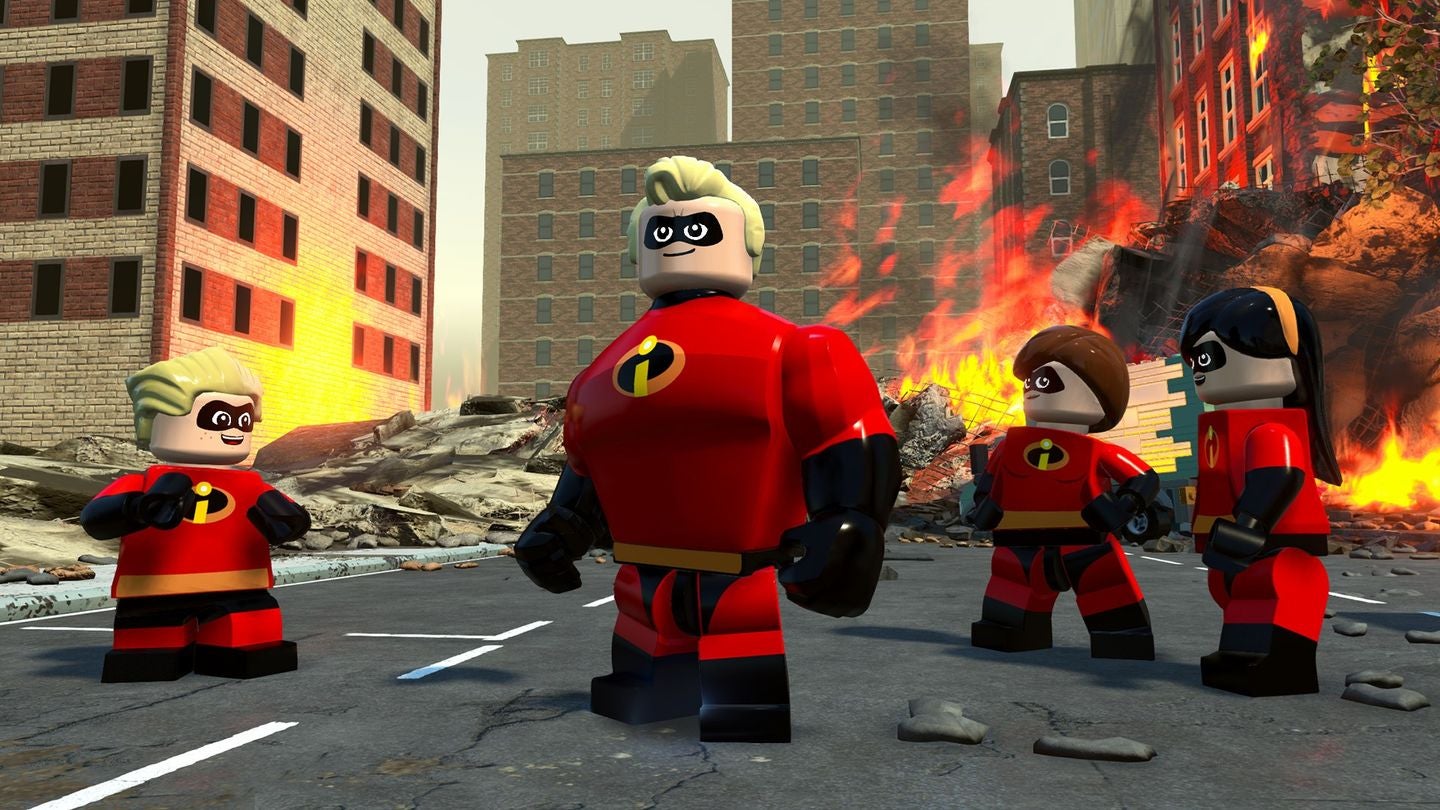 LEGO Incredibles Pixar character locations list
There are many characters to unlock across LEGO Incredibles, but the most interesting are those from other Pixar films.
To unlock them, you need to find specific Pixar Family Build locations across the town. There, you must spend Incredibricks - a collectable found throughout the city, which you can find easily by clearing out Crime Waves - to unlock them.
| Character | Film | Location |
| --- | --- | --- |
| Bing Bong | Inside Out | Residental (north) |
| Dory | Finding Nemo | Waterfront (south) |
| Junior | Pixar Intro | Financial (east) |
| Flik | A Bug's Life | Urbem Heights (central) |
| Lightning McQueen | Cars | Waterfront (east) |
| Linguini | Ratatouille | Downtown (south) |
| Merida | Brave | City Park (north) |
| Miguel | Coco | Waterfront (south-east) |
| Russell | Up | Financial (west) |
| Spot | The Good Dinosaur | Outer Municiberg (east) |
| Sully | Monsters Inc | Docks (west) |
| Wall-E | Wall-E | Industrial (north) |
| Woody | Toy Story | Tourist (central) |