Jordan Mechner's Karateka remake is coming to XBLA this week
UPDATE: New trailer shows off gameplay. "Always punch the hawk!"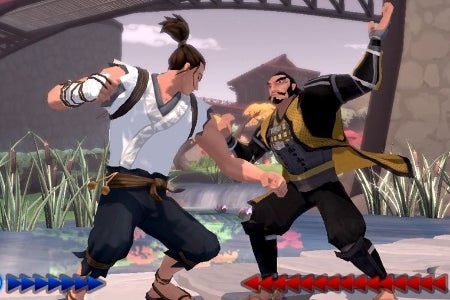 Update: Until now there wasn't any gameplay footage available of the Karateka remake, but a new launch trailer not only shows off the new game, but pokes fun at its source material too. Check it out below.
Original story: Prince of Persia creator Jordan Mechner's remake of his 1984 rotoscoped beat-'em-up Karateka is coming to XBLA on 7th November, one week ahead of when it was previously reported. It will cost 800 Microsoft Points.
Developer Liquid Entertainment said it's "coming soon" to PSN, Steam and iOS, and listed a general November release. The PSN and Steam versions are set to cost $9.99 or your local equivalent. The price has not been set on the iOS version, and each console release is slated to have a free trial.
Surprisingly, the announcement advertises that the game offers a "compact 40-minute playthrough," yet its "three suitors" system encourages replay value as you take the role of three lads vying for a princess' love. Getting to the end as a Brute won't be that challenging, but achieving her hand as her "True Love" will be exceptionally difficult. Like they say, "love hurts."
The game will feature rhythm-based combat and art by Jeff Matsuda, whose animation credits include The Batman and Jackie Chan Adventures.
The original game was like a precursor to Prince of Persia and Punch-Out!! as it featured a series of one-on-one fights with brief cutscenes filling in the story between battles.