Inti Creates reveals 8-bit Castlevania-a-like Bloodstained: Curse of the Moon
Out this month on Switch, 3DS, PS4, Vita, Xbox, PC.
Brilliant developer Inti Creates has revealed Bloodstained: Curse of the Moon, an 8-bit Castlevania-inspired spin-off of the upcoming Bloodstained: Ritual of the Night. It's out this month on Switch, 3DS, PS4, Vita, Xbox One, and PC.
Inti Creates is an absolute master when it comes to authentically retro-styled action platformers. The team, founded by ten ex-Capcom employees over 20 years ago, already has an impressive back catalogue, including the likes of Mega Man Zero and ZX, Blaster Master Zero, and Mighty Gunvolt Burst. That in itself is enough of a reason to get excited about the prospect of a classic Castlevania-inspired Inti Creates game.
What makes Curse of the Night more notable, however, is that it's a spin-off of the upcoming Bloodstained: Ritual of the Night - famed Castlevania designer Koji Igarashi's glossily modern spiritual successor to Konami's beloved gothic series, due out later this year. Curse's arrival isn't entirely unexpected, however; Ritual's massively successful Kickstarter promised an 8-bit game as a stretch goal, and this is that project.
While the upcoming Ritual of the Night is based around the Castlevania series' more recent open-ended template, a style often referred to as Metroidvania these days, Inti Creates' Curse of the Night is old-school through-and-through, featuring a semi-linear sequence of discrete levels more in keeping with Castlevania's 8-bit and 16-bit outings.
Its closest touch-point, based on Inti Creates' announcement trailer at least, would appear to Castlevania 3: Dracula's Curse for the NES, given that it features multiple playable characters able to unlock alternate paths through the game. Its primary protagonist though is sword-wielding Zangetsu, "a demon slayer bearing a deep grudge, who must travel through perilous lands to defeat a powerful demon lurking in a dark castle".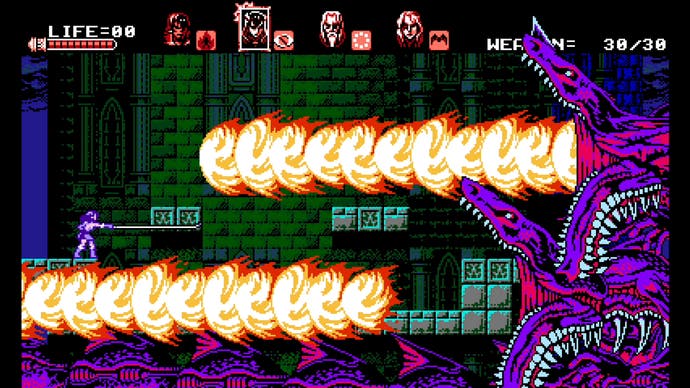 On your journey, you'll team up with new characters after each boss fight, including the whip-equipped Miriam, alchemist Alfred who brandishes the power of magic, and Gabal, a young man with the power to transform into a bat and fly over short distances. You can switch between characters on the fly, but they'll be removed from your party once their health is depleted. As such, your selection, and their survival, will determine the paths and shortcuts you can take through the game, as well as the difficulty and potentially even the ending of the experience.
It all sounds very promising and utterly looks the part, with an 8-bit style that mimics the limited colour pallettes and slightly rigid animations of classic platformers, while offering a few modern twists such as massive, screen-filling sprites. There are even two different play modes in the form of Veteran and the Casual. Veteran is authentically retro, featuring mechanics like knock-back when hit by an enemy, while Casual offers unlimited lives and more.
Bloodstained: Curse of the Moon will be free to eligible Kickstarter backers, and everyone else will be able to purchase it digitally on Switch, 3DS, PS4, Vita, Xbox One, and PC for $9.99 USD when it releases on May 24th.