Interplay breaks months of silence with Kickstarter for Freespace board game
Designer of original Fallout at the helm.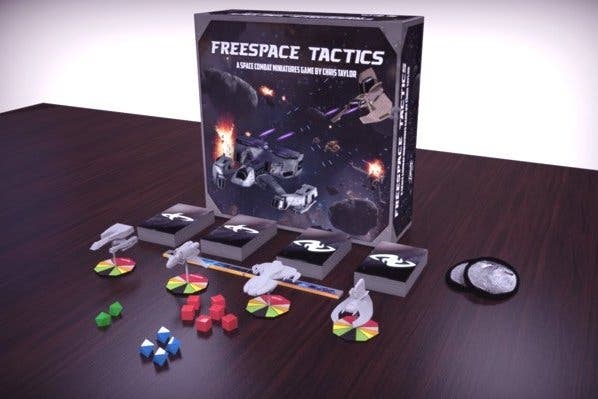 Interplay has broken months of silence with the announcement of a Kickstarter for a board game based on the Freespace video game franchise.
Freespace Tactics is a new tabletop game based on the science fiction space combat series that did well for Interplay in the 90s. It's the brainchild of Chris Taylor, who worked as a designer on the original Fallout. The game is designed for 2-4 people. You build hands of movement cards to dodge missiles and asteroids, flank opponents, and attack enemy ships.
The Freespace Tactics Kickstarter asks for $75,000. At the time of publication $2500 had been raised off the back of 37 backers.
The Kickstarter was created by Freespace Development Corp. It says by day it works for Interplay making computer games, which makes sense when you consider both are based in Los Angeles, California, but at night and on the weekends it plays and makes board games.
Freespace Development Corp is working with Cryptozoic Entertainment, the company behind the World of Warcraft Trading Card Game, among others, to put together Freespace Tactics.
We hear little of Interplay these days - something its customers have complained about for months now on its forum and the Steam pages of its games.
The last time the company made any noise was in June 2014, when it announced the launch of Freespace 2 on Steam. A month earlier it was the launch of Descent: Freespace on Steam, and before that, in April, it was Descent 3. Interplay released Battle Chess: Game of Kings as an Early Access title in March, and players have complained about a lack of updates ever since.
Interplay was founded in 1983 by Brian Fargo, who now runs Wasteland 2 developer inXile Entertainment. Throughout the 80s and 90s Interplay enjoyed huge success off the back of the Fallout, Planescape: Torment and Baldur's Gate series.
But the company went bankrupt in 2006, and sold off a raft of its intellectual property. Still, the Interplay name lives on, trading off of a back catalogue that includes some well-known franchises, such as Clayfighter, Descent, Earthworm Jim, Giants, MDK and, of course, Freespace, which it bought in 2013 for just $7500 after previous rights holder THQ went bust.
Chris Taylor also worked on a 2012 revival of Black Isle that failed to go anywhere. At the time it asked for funding for a game called Project V13 - what Interplay called the Fallout Online MMO it was working on before the rights to that name reverted to Bethesda in a lawsuit. Nothing came of it.