Infinity Ward has another crack at nerfing Call of Duty: Warzone's notorious Bruen
Double tap.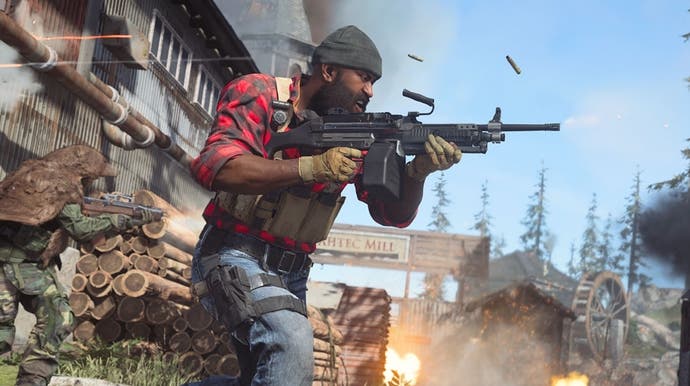 If at first you don't succeed, try and try again - that's what Infinity Ward is doing with Call of Duty: Warzone's notorious Bruen LMG, which has once again been slapped with a nerf just two weeks after the last one.
Earlier in August, Infinity Ward nerfed the Bruen MK9, which was considered the most powerful gun in the battle royale. This LMG had the accuracy at range, mobility and reload time of an assault rifle - with the right attachments - and had become central to Call of Duty's meta.
Infinity Ward initially reduced the Bruen's maximum damage range from 42m to 27m. That was seen as a significant nerf at the time, but in-game, the Bruen felt as effective as ever.
And so, we come to last night's update, which nerfs the Bruen again. And this time it's a more significant change. The gun now has reduced upper torso damage, increased recoil on the base weapon, and additional increased recoil on the 60 round mag attachment, which was considered essential.
This really should do the trick, and what's more, this nerf comes alongside a buff for the ISO SMG, which was considered weak. The hope is no single weapon is seen as essential in Warzone. If true, it should mean we get to see some variety out on the battlefield. It had become quite boring to be lasered by the Bruen over and over again.
And finally, Infinity Ward has issued a fix for the broken 12-Gauge Deputy underbarrel shotgun attachment for the FR 5.56. As we reported, this attachment turned one of Warzone's worst weapon into a one-hit kill machine. Last night's update stamps on this bug, clamping close lethal damage, and fixing damage falloff.
Here are the patch notes in full:
Warzone: 12-Gauge Deputy underbarrel shotgun:
Clamped close lethal damage
Fixed damage falloff for the FR 5.56 underbarrel shotgun
Bruen MK9:
Reduced upper torso damage
Base weapon - Increased recoil
60 Round Mag - Additional increased recoil
ISO:
Reduced movement penalty for drum mags
Increased base ADS movement speed
725 Sawed-Off Barrel:
Small increase to ADS time
Small decrease to movement speed
Reduced close lethal damage range
Fix for an exploit near the Prison in Warzone
Removing the VO from the High Alert perk