Indie horror Caffeine recreates Alien Isolation aesthetic on a shoestring
UPDATE: Unreal Engine 4-powered demo now available.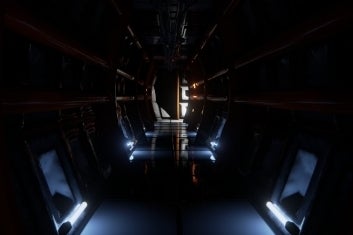 UPDATE: Promising indie horror Caffeine is now available to try in a new Unreal Engine 4-powered demo.
The early trial version includes a small area to explore so you can soak up the Alien Isolation-style surroundings. You can nab it now from IndieDB.
"It is currently a pre-release demo so please keep in mind that I will be releasing updates to it in the coming weeks," Caffeine creator Dylan Browne wrote. "At the moment it includes a re-designed starting area which you can explore. Please bear in mind as some sounds are not in the demo build yet but I plan to fix this and a texture bug (near the fridge) next week."
ORIGINAL STORY: The developer of sci-fi horror Caffeine has posted a new Unreal Engine 4-powered trailer to celebrate the launch of the game's Indiegogo campaign.
After a weekend of seeing Alien Isolation played on the EGX Rezzed show floor it's impossible not to see similarities in Caffeine's aesthetic - and to marvel at how this has been achieved on an indie budget.
A first-person psychological horror game (albeit with puzzle mechanics), Caffeine also offers a space-set survival story. You play as a young boy on an abandoned mining station who must investigate what happened - and what else is lurking in the shadows.
Caffeine creator Dylan Browne is asking for AU$80,000 (just over £44,000) to complete the game for PC, with an estimated release date of early 2015. Oculus Rift support and a PlayStation 4 version are also possibilities.
Watch the trailer below.