GTA 5 mod install guide: How to install and get GTA 5 mods on PC
Here's how to tinker with one of Rockstar's greatest games by finding and installing mods.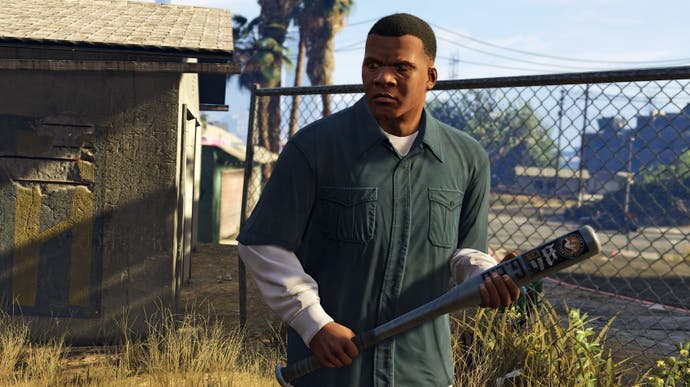 How to tinker with one of Rockstar's greatest games by finding and installing GTA 5 mods.
For PC players, GTA 5 mods allow you to tweak and expand Rockstar's open-world opus.
2013 delivered us one of the greatest open-world sandboxes ever made, and the fact we still talk about it today speaks volumes about its influence.
But if you aren't entirely satisfied with GTA 5's playpen of destruction, then you may be on the lookout for some mods to enhance your experience. This page addresses the grey area of Grand Theft Auto 5 mods and talk about how to stay safe when priming your game and installing them with a step-by-step mod tutorial.
Note - though we have tested the methods below at the time of writing, we are not responsible for the content of any linked external pages, and that you visit and download mods at your own risk.
If you aren't comfortable with external downloads, but still want to explore the game outside the bounds of regular story missions, then our GTA 5 cheats can help provide some new ways to play.
On this page:
Are GTA 5 mods safe to install?
Generally, single-player Grand Theft Auto 5 mods on PC are safe to install, as long as you can confirm that the mod files you have downloaded are safe by scanning them with reputable antivirus software.
You can read Rockstar's stance on PC Single-Player Mods on its official support website, where the studio says it "believes in reasonable fan creativity".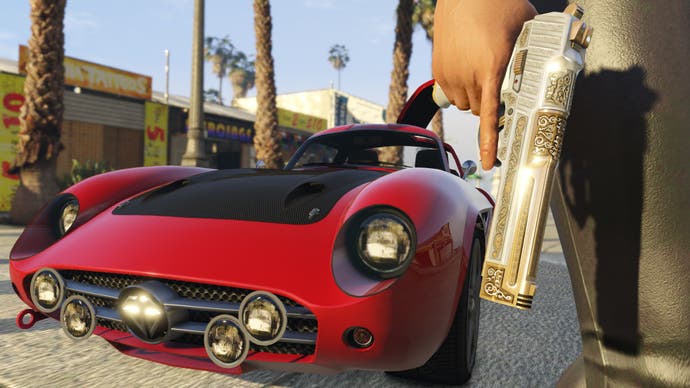 Meanwhile, in this newswire from 2015, Rockstar also said "you should not worry about being banned or being relegated to the cheater pool just for using single player PC mods."
However, multiplayer mods for Grand Theft Auto Online are strictly not allowed. Even just booting up Grand Theft Auto Online with single-player mods installed is a bad idea and could result in your account being banned.
If you want to use single-player mods, it might be worth disconnecting your internet to play the game offline so that you won't connect to the online servers.
In the same newswire above, Rockstar noted that the studio's primary focus "is on protecting GTA Online against modifications that could give players an unfair advantage, disrupt gameplay, or cause griefing". It also added that because mods are unauthorised, they "may be broken by technical updates, cause instability, or affect your game in other unforeseen ways."
It's worth stressing that there is always some level of risk involved with installing third-party mods, and you will be operating in a grey area, so proceed with caution.
How to get GTA 5 mods on PC
Now that you've primed GTA 5 for modding, you're going to need some mods. We've found the best place to find GTA 5 mods is a website named... GTA5-Mods.
Our recommendation? Head to the tabs on the top line like Scripts or Weapons and then sort by Most Downloaded or Highest Rated.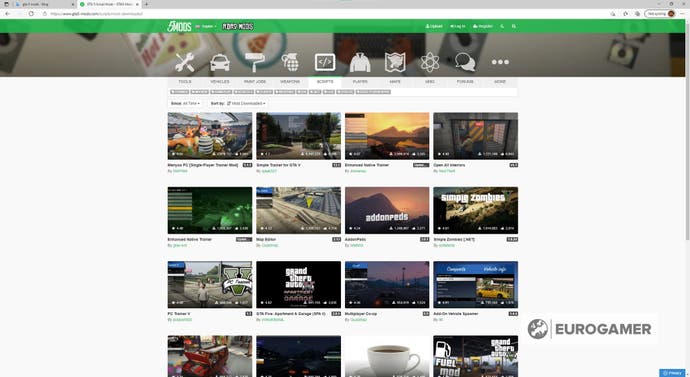 The installation process for each mod that you download will be different, and the corresponding website or Github page will often point you in the right direction. Usually, it's just a case of dragging the files you download into your main GTA 5 directory or the mods folder you created while setting up OpenIV - which we explain in the coming sections.
How to install GTA 5 mods
If you want to install GTA 5 mods, you're going to need a few important tools. First up is OpenIV, which is an editing and archive management tool for modding Rockstar-developed games. You can pick it up from this website.
Download the file, boot it up and choose your language. Once that's done, install OpenIV on your computer and then boot the software from your desktop.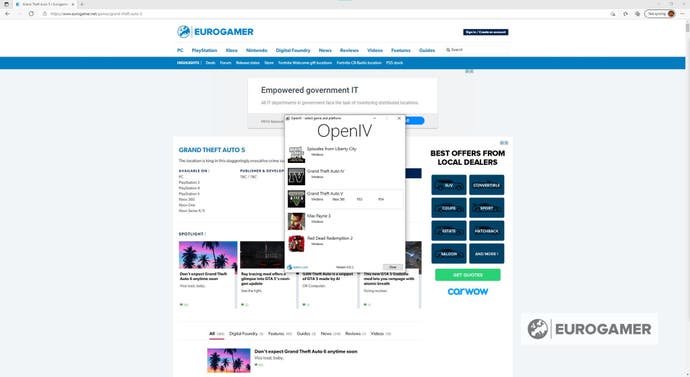 You'll then find yourself on a screen where you must select your game and platform.
Pick 'Windows' underneath Grand Theft Auto 5 to continue with the mod setup. You'll then be asked to find the GTA 5 installation path on your PC.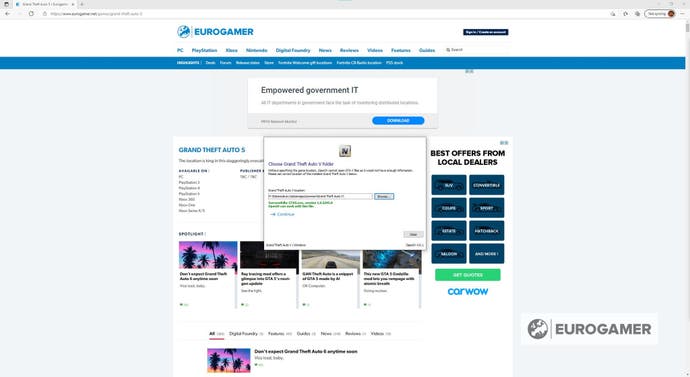 Click Browse, navigate where you installed the game, and then Select Folder to secure it in OpenIV. If you have the game on Steam, it will be within a folder marked SteamLibrary.
If you have GTA V on Epic Games or the Rockstar Launcher, the path will be within the library folders on the drive you chose when setting up the launcher, usually titled Epic Games or Rockstar Games by default.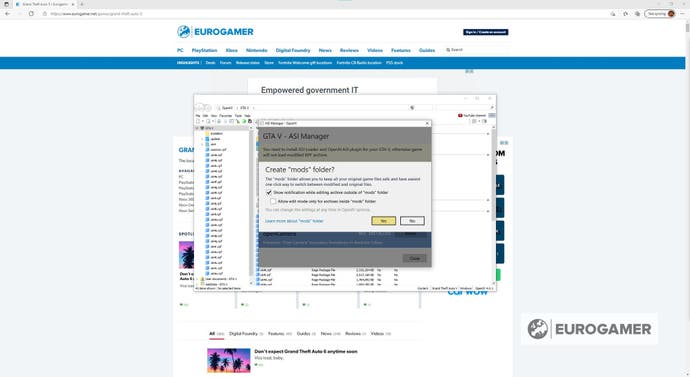 Once that's done, click Continue, and OpenIV will start searching for the encryption key, and then load a little file explorer page of its own, dissecting your GTA V installation.
Now you want to click the button underneath 'Favorites' called ASI Manager and install the ASI Loader and OpenIV.ASI. You should be prompted to create a Mods folder during this process, which you'll want to agree to.
---
If you're looking for help with GTA 5 story missions, learn the different outcomes in The Jewel Store Job, The Merryweather Heist, The Big Score and final mission Deathwish. For hijinks out in the open world, there are Strangers and Freaks missions, the military base and spaceship parts to find. Want to explore more beyond the main game? Then play around with GTA 5 cheats, money and stock market and GTA 5 mods.
---
How to use Script Hook V and Script Hook V
The next tool you'll need is Alexander Blade's Script Hook V, which you can download from the AB Software Development website here. This tool mods your installation of GTA 5 so that it can read and activate custom script functions.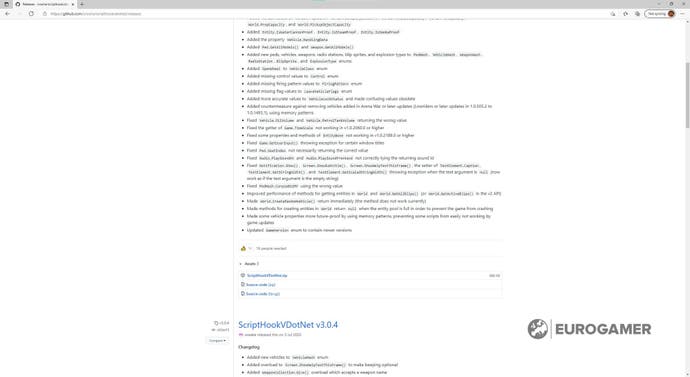 Download the ZIP from the web page, extract it to your desktop, open the bin folder, and drag the contents into your GTA 5 installation folder. The Native Trainer file is a little mod menu and is optional.
To access even more mods, you're also going to want to download Script Hook V Dot Net from this GitHub page.
On the page, download the ZIP of the latest version and follow the same process as above to add the extracted files to your game directory.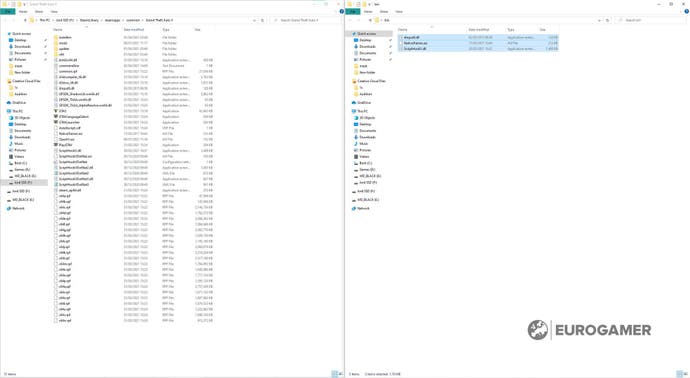 From there - the modding world is now your oyster, but just make sure to consult any documentation and scan the files with your antivirus before you install anything just to make sure.
A fresh install should wipe your mods if you need to rollback to a clean version of GTA 5, but you can also remove specific mods that you don't need using the file management system.
Also, it's worth bearing in mind that some popular mods may be found beyond the GTA 5 Mods website, either through Patreon pages or other online mod hubs.
Then, once you've installed the mods you're interested in, it's just a case of booting up the game from your launcher of choice and enjoying them!