Ghost Recon: Future Soldier more realistic than COD, says dev
Invisibility cloak not "Harry Potter-like". Dev defends Kinect, talks beta details, PC version.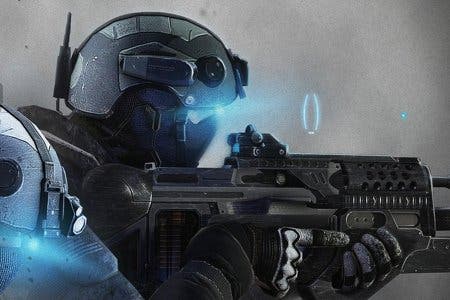 Sci-fi shooter Tom Clancy's Ghost Recon: Future Soldier will offer players a more realistic experience than "arcadey" shooters such as Call of Duty, Ubisoft says.
Creative director Jean-Marc Geffroy told Eurogamer that Ubisoft has strived to keep Future Soldier grounded in reality, despite offering invisibility cloak-style active camouflage and the ability to sense enemy positions through walls.
"If you have a team of four guys who kill 40 enemies simply by running and shooting, it's not realistic," Geffroy explained, referencing more casual shooters. If you're that good at Future Soldier, "it's because you're really well coordinated and have good equipment. It's not just because you're good at shooting. We don't want one guy running and shooting all the enemies and showing off to his team-mates. We tried to make people think before they start shooting.
"I don't think shooters right now are too easy - the market has shown things like Call of Duty perform very well - but I do think there's something between this arcadey-style shooter and other games that are real military simulations that are quite niche. I think we can find a place between these two extremes."
Tommy Jacob, creative director of the game's multiplayer mode, agreed. Future Soldier "targets the player who loves shooters but is looking for something new in the genre," he said, hyping the game's team-based antics: side-by-side fire fights or supportive flanking to secure a target. The game is not dissimilar to Battlefield 3 then, albeit with some snazzy sci-fi upgrades.
Future Soldier previously lost its grounding in reality, Ubisoft admitted, in an earlier build that depicted hulking battle-suited warriors. "There was a time post E3 2010 where the game was modified," Jacob explained. But it was "not just the exo-suit and shoulder rocket launcher" that were too sci-fi. The Future Solider team realised it was "creating something futuristic, but not something Ghost Recon".
"We wanted to reign that in a little bit into something that was less sci-fi and more like what real special forces soldiers go through in terms of training and what he has available to him in terms of equipment."
But how grounded can a game with an invisibility cloak be? The technology is based upon prototypes available now, but not yet miniaturised, Jacob argued. So it's "in development" technology and thus coming, sometime, rather than being something completely "Harry Potter-like".
Another piece of new technology snuck into Future Soldier during development is Kinect. "It's hard not to see it as any more than a briefly diverting novelty," Martin Robinson wrote in Eurogamer's recent Future Soldier preview. What can Ubisoft say to convince people otherwise? "It's fun!" Jacob reasons. Like a novelty, then? "But it is fun! We wanted the player to feel like they had the gun in their hands."
"I don't think Kinect is ready yet for full gameplay combat, but to examine a weapon - it's like Minority Report. For us, that was the best method of integrating Kinect into the game. As far as convincing people, I'd just have to say - try it."
"I don't think Kinect is ready yet for full gameplay combat, but to examine a weapon - it's like Minority Report."
Future Soldier will also offer an easy mode, designed to be more accessible to casual shooter players. Such as Call of Duty? Jean-Marc Geffroy agreed. Easy mode makes it "easy to stay alive, but you still need to careful. We try to be fair to players. But not too fair, if they're just running around. If you create a fantasy around special forces, you can't accept strange behaviour from the players".
A month from Future Soldier's console launch, Ubisoft is now readying itself with plans for the game's beta. Ubisoft previously announced the beta would be restricted to those who pre-ordered the game, owners of Splinter Cell: Conviction and - in the US - PlayStation Plus members. Ubisoft confirmed that the offer won't be repeated for European PlayStation Plus subscribers. UK members of Ubisoft online service UPlay will be offered a key, however, and others will be made available in website giveaways (watch this space).
The game is now "done and dusted as to what's on the disc", Jacob added, but Ubisoft Red Storm will work throughout the beta period on tweaking settings for the final version. "It's the first time we'll be getting such a wave of feedback on how things are tuned, how the weapons are tuned. These are things we can fix."
But while UK console gamers can play Future Soldier from 25th May, PC players must wait almost another month - until 15th June. Both of the console versions were started first, Geffroy offered as a reason. Extra work will focus on optimising the PC game's "controls and rendering".
At one point Ubisoft told Eurogamer that the PC version of Future Soldier had been replaced by free-to-play PC title Ghost Recon Online. But this is something Geffroy blamed on someone "mis-speaking" in an interview. "It was a really bad communication. We didn't want to talk about the PC version because we were focused on the console one."
The game was always likely to come out on PC, he added. "It's a PC brand and we have designers who are PC players so we always wanted to do a PC version. It was just a miscommunication."
Looking further to the future, a raft of Future Soldier DLC content appears to be on the way. "There will be more game types coming," Jacob revealed. "These will be paid-for DLC." Details of these are under wraps, but in the long term Ubisoft plans to offer "obviously maps, new guns, new modes", Geffroy added. "And maybe more stuff to come... we'll see."