Frog Fractions 2 adds stretch goal to buy Oculus from Facebook
You wouldn't happen to have $2 billion lying around, would ya?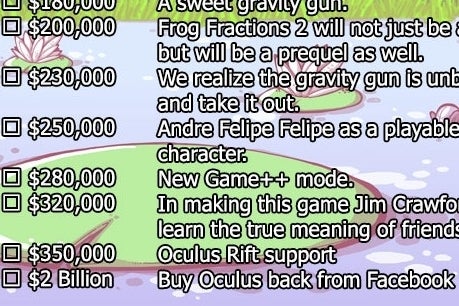 Frog Fractions developer Twinbeard Studios has voiced its disapproval of the Oculus acquisition by Facebook by adding a new stretch goal to its Frog Fractions 2 Kickstarter campaign: "buy Oculus back from Facebook."
It only costs $2 billion.
Of course it's never going to reach that - and it's not like Facebook would be happy with breaking even - but it's one of the more amusing reactions we've seen to this bewildering merger.
On a more serious note, Minecraft creator Markus "Notch" Persson stated that he pulled Minecraft from talks with Oculus following its buyout by Facebook, whereas Gear of War creator Cliff Bleszinski was more optimistic about the acquisition and called Persson's boycott a "bratty and petty move."
Frog Fractions 2 is well on its way to success with $44,549 of its $60K goal funded. It has 13 days to go before its 9th April deadline.