Free-to-play monster hunter Dauntless is out today on Switch
And Stormchasers update arrives on all platforms.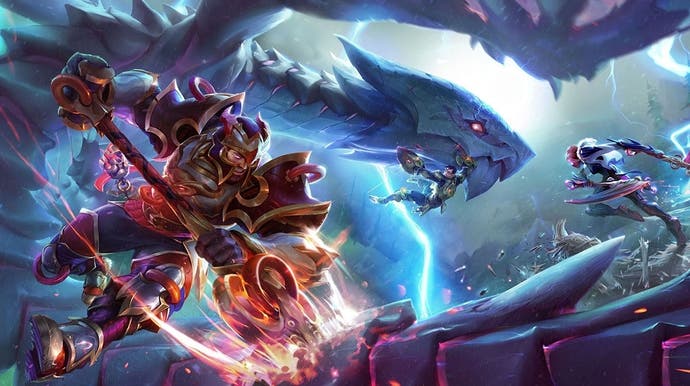 Phoenix Labs' free-to-play monster-hunter-style action-RPG Dauntless is making its way to Switch today, following its full release on PC, Xbox One, and PS4 earlier this year.
Dauntless, which initially launched in closed alpha all the way back in 2017, takes the co-operative monster slaying core of Capcom's masterful Monster Hunter series and fluffs it into a breezier, more accessible experience, with swifter fights, simpler combat, and fewer creatures.
Despite its limitations, it's still a surprisingly entertaining affair. Eurogamer's Christian Donlan was positively delighted by his experiences tracking down a majestic, if less-than-friendly giant owl when Dauntless finally got its full release back in May.
Dauntless on Switch supports cross-play and cross-progression with other platforms (account linking details can be found in the announcement post), and those joining the game through Nintendo's system can claim the Skyfighter armour and Skymetal weapon set for free.
Accompanying today's Switch release is Dauntless' latest free expansion, Stormchasers. This introduces a new monster (or Behemoth, as the game calls them) in the form of Malkarion, a new Hunt Pass, plus Escalation mode, which pits brave players against five back-to-back procedurally generated Behemoth encounters, culminating in a season boss-fight showdown.
Stormchasers releases today for all platforms.