Fortnite surprises players with new enemy yoinking harpoon gun
And it fishes too!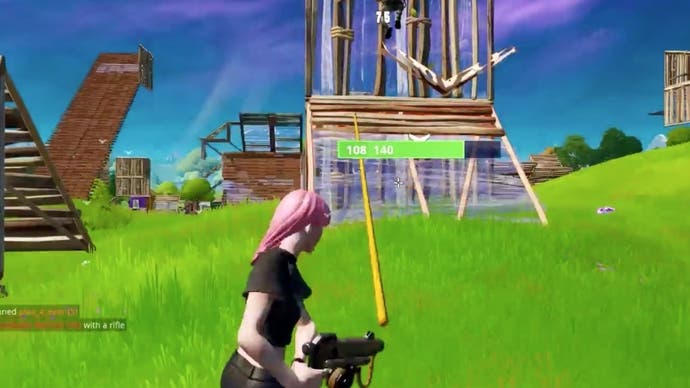 Fortnite players now have a new tool at their disposal in the unending fight against fellow island dwellers (and, it turns out, fish), with developer Epic today quietly releasing a harpoon gun into its really-quite-popular battle royale game.
Fortnite's v11.10 update arrived with neither fanfare nor patch notes - not for the first time since the launch of Chapter 2, much to the chagrin of fans - meaning that players logging on earlier today were unprepared for the comical delights of the new harpoon gun.
With no official correspondence to refer to, the Fortnite community has spent the day documenting the functions of Epic's multi-faceted new tool - noting, for instance, that it can be deployed on fellow players to dish out 75 damage and yoink them in closer for more.
Furthermore, it's capable of snatching up loot from a distance and quickly reeling it in, and even serves as a rapid-fire equivalent to the fishing rod introduced as part of Season 2. By unleashing it in the direction of a rippling body of water, it's possible to haul out aquatic treats like a pro.
After a day of messing around with Fortnite's new addition, players have now compiled their own unofficial patch notes. Accordingly, the Harpoon Gun can be found in chests, supply drops, and as floor loot, and is good for a maximum of 10 uses. It deals 75 damage to players, 150 damage to structures, and has a reload time of 1.4 seconds.
Fortnite's v11.10 update has also seemingly increased the spawn rate of upgrade stations to 100% (although Epic is silent on that matter too), and has definitely jettisoned the game's Halloween-themed modes and decorations for another year.
Speaking of which, Eurogamer's Tom Phillips was rather taken with Halloween in Fortnite this time around, reckoning that the now-departed Storm King raid boss was a particular treat.