Fortnite season 9 sees cyberpunk-style Tilted Towers rise from the ashes
Neo business like show business.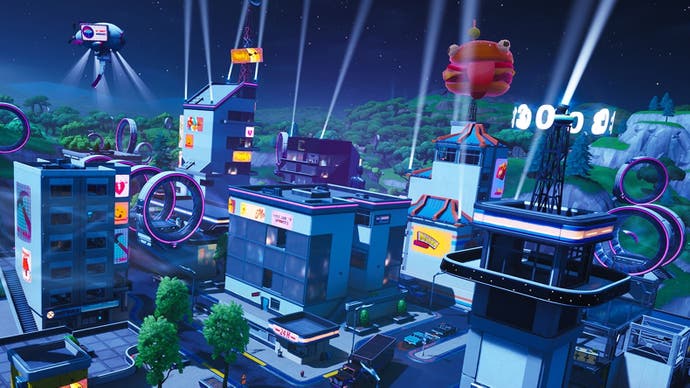 After Tilted Towers suffered a dramatic death-by-volcano last week, many were wondering whether the famous hotbed of sweats would ever be resurrected - but season 9 is upon us, and so is the new version of Tilted Towers. You can't keep this place down.
The season 9 update, which has just gone live, once again makes a number of major changes to Fortnite. The most noticeable are the addition of two new (or revamped) locations, Neo Tilted and a souped-up version of Retail Row called Mega Mall. I'm not going to lie, the latter looks like it's about 90 per cent car park - true to a mall shopping experience, I suppose.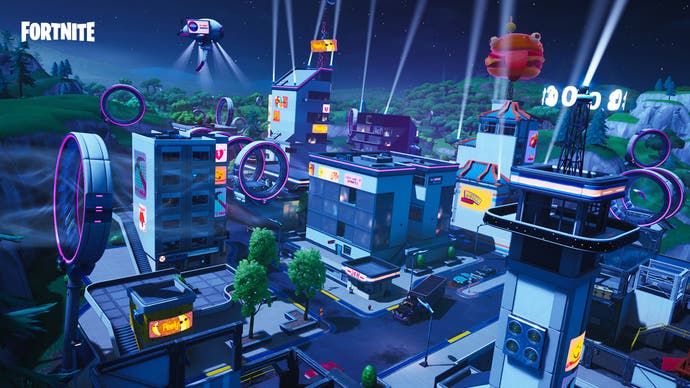 The narrative explanation for the new locations is shown in the Fortnite season 9 cinematic, which picks up from the aftermath of the volcanic eruption. The trailer's two protagonists - Peely (the banana skin) and Jonesy can be seen running from the carnage into a bunker. Things get a little morbid, with Peely meeting a rather unfortunate fate, before the refugees are rescued and introduced to Neo Tilted.
Chief among season 9's gameplay changes is the addition of slipstreams - a new transportation system which shoots players between giant rings. According to the patch notes, players are able to change direction when actively "trying to move down the stream", so it sounds like these will essentially be one-way air roads. Intriguingly, the notes also explain directional input can be used to "gain extra velocity", while "bobbing up and down" can result in higher speeds. I suppose these are meant to be a replacement for Fortnite's balloons, which are also being vaulted in the update - something Christian Donlan is very upset about.
Projectiles and vehicles can also use the slipstream. I'll just leave that there.
The patch notes also detail a new addition to movement in the form of air vents - environmental items which "launch players short distances and grant immunity to fall damage". These can be found on the top of buildings, and function similarly to the volcanic vents found in season 8.
If you're a battle pass holder, a new addition of interest in Fortnite season 9 is fortbytes: a "series of 100 collectible computer chips available to battle pass owners". Collecting fortbytes will "decrypt a mysterious message", and finding them all will unlock "rewards and the secrets of season 9". Sounds like a more accessible version of Fortnite's battle stars and banners, which can be found around the map after completing weekly battle pass challenges (and used to unlock exclusive cosmetics, which normally have a connection to the narrative for the next season).
In comparison to the stars and banners, of which there are only 10, there will be a whopping 100 fortbytes to find. 18 will be made available from the get-go, with at least one new fortbyte unlocked each day - keep an eye on the challenges tab to find out when.
Meanwhile, in the world of Fortnite meta, it looks like Epic is once again tweaking the shotguns, as a new combat shotgun is being introduced. This is semi-automatic with a "tight spread and fast fire rate", with base damage of 73/77/81. The cost of this new shotgun, however, is the vaulting of the pump - a classic Fortnite weapon and crowd favourite.
Other victims of the update include clingers, buried treasure, suppressed assault rifles and scoped revolvers - while the drum gun (reintroduced by popular demand) has had its availability reduced. Probably a good thing, if you had any plans on building this season.
There's a whole lot of exciting changes in season 9 - and you can find an expanded list of these in our Fortnite season 9 patch notes guide. Given the recent report on Fortnite crunch, however, a part of me is now wondering exactly what the human cost of a seasonal update as large as this was - and whether Fortnite has any plans to slow down that output.