Flappy Bird dev's latest, Swing Copters, release date set this week
Watch the first footage now.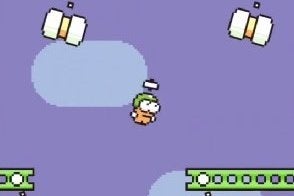 Flappy Bird developer Dong Nguyen has revealed his next game, Swing Copters.
Excitingly, it's coming out this week! On 21st August, according to TouchArcade.
Nguyen has since specified via Twitter that it will be released on iOS and Android devices.
Swing Copters continues Flappy Bird's one-button gameplay where you weave back and forth to fit through narrow gaps in the scenery. Only now you'll ascend rather than fly to the right, and there are swinging hammers guarding each gap just in case Flappy Bird was too easy for you.
Swing Copters will be a free download with ads that can be disabled for $0.99 (so probably £0.69). It looks as hopelessly addictive as its predecessor, so let's hope Dong doesn't pull it for becoming "a problem" for society, as he did with Flappy Bird before relaunching it on Fire TV earlier this month. Everything in moderation, okay?